Some posts on this blog contain affiliate links. If you click them, I earn a small commission. It does not cost you anything extra, but this commission helps support the work of running this site. The views and opinions expressed on this blog are purely my own.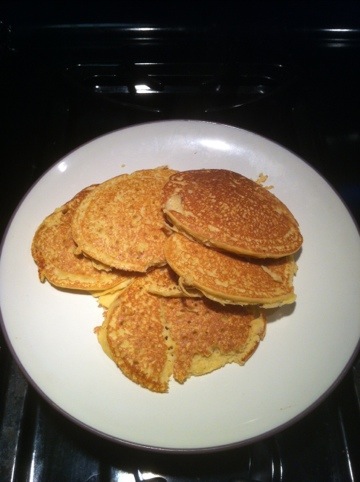 I made these Chickpea Hotcakes for Aidalyn last night. It was an experiment for sure! I think it is something that I can modify and come up with different recipes from.
Two things that I value: easy and a non-messy finger food for a toddler.
So here it is:
Ingredients:
1 can of chickpeas, drained (Mine were organic)
1/4 cup of milk
1 tablespoon of coconut oil
2 eggs
Optional: cinnamon, 1 tsp of vanilla extract, 1 tablespoon of honey
Directions:
I just blended everything together in my Magic Bullet and made little rounds of batter in a hot lightly oiled skillet. I flipped them once they set on one side (could see small bubbles on the edges when it was time to flip them). And they were done!
Aidalyn approved! You can add blueberries or other fruit if you'd like. You could also make them more savory by adding more seasoning and meat possibly and onions or other vegetables. It is hard to come up with whole food – grainfree finger foods for a toddler that A) she will eat and B) are easy to make and C) aren't too messy. These met every criteria. I will definitely make them again.
What do you feed your toddler/kids that is grain free and easy to make?
Latest posts by Angela Parker
(see all)