Some posts on this blog contain affiliate links. If you click them, I earn a small commission. It does not cost you anything extra, but this commission helps support the work of running this site. The views and opinions expressed on this blog are purely my own.
Having a 19 month old, I have some experience with sippy cups. I just bought this set yesterday at Target and I'm already in love! Tommee Tippee. They were on sale for $8 for 2 sippy cups.
Aidalyn drinks water in her cup, so it isn't too messy when it leaks. It is however frustrating when her outfit is soaked. All of our sippy cups leak!!! Even though the boxes always say 'leak proof.' Aidalyn also loves making them leak & getting wet by shaking them upside down, charming to say the least. So we are really good testers for leaks.
This has held up with no leaks through being shook upside down, laid on its side, and general use – No leaks! I love this cup!
We needed some new sippy cups and this proved to be the best we have tried so far. What are some of your favorite things for toddlers?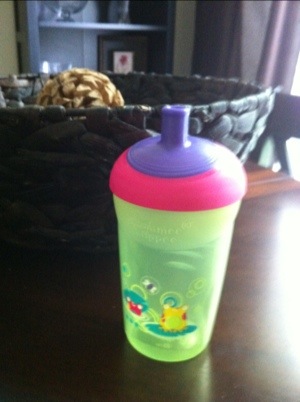 Latest posts by Angela Parker
(see all)