Some posts on this blog contain affiliate links. If you click them, I earn a small commission. It does not cost you anything extra, but this commission helps support the work of running this site. The views and opinions expressed on this blog are purely my own.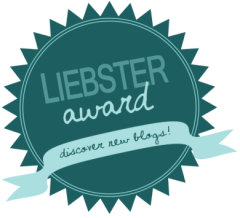 I was nominated for The Liebster Award by The Pinterested Parent
I'm so honored! Thank you!
So when you are nominated for the Liebster Award there are some steps that you must follow:
-Nominees must link back the person who nominated.
-Answer the 10 questions that are given by the nominator.
-Nominate 10 other bloggers for this award who have fewer than 200 followers.
-Create 10 questions for the new nominees to answer.
-Go to the nominee blogs and notify them about their nominations
Here are my answers to The Pinterested Parent's questions:
1. What is your favorite blog post & why?
My favorite blog post that I have written myself that I like? Probably both of my birth stories. Both experiences really were amazing and I was proud to be able to have a homebirth for both and share that with the world. Possibly to be an encouragement to another mom that she can have a natural labor too.
2. I'm a lover of travel. Of anywhere you have ever been, what is your favorite destination & why?
I've been to Hong Kong, Rome, Paris, New York, Florida, Colorado, Missouri, Georgia, Skiing in Pennsylvania for some of my most recent travels. I think My favorite as just a couple with no kids was either Paris or New York. With kids would have to be Disney in Orlando Florida. 
3. Where would you visit if you could go anywhere in the world & why?
I still really want to visit Australia. Not really any one reason but that I'm interested. We were pretty close when we went to Hong Kong and found out that a lot of people from Australia like to vacation to Hong Kong – go figure!
4. Use five words to describe yourself
Researcher, Thinker, Friendly, Health-minded, and Christ follower
5. Where do you draw inspiration for your posts from?
Mostly just from life. My family, my church, my city, a book I may be reading. 
6. If money were all of a sudden, no object, what would be the first thing you would do?
Travel probably and also go see my family in Louisiana. 
7.What did you want to be when you grew up? Are you, now?
When I was in the six grade, we had a career week where different parents came in to tell us about their jobs. One lady came and talked about being a speech therapist. I thought it was the coolest job I had ever heard of. From that day on that was the only thing I knew I wanted to be (besides being a mom). So I went on and go my Master's degree in Speech Pathology. I worked 3 years before decided to be a full time stay at home mom. I still love speech research and keep up on my continuing education. I will probably return to work once my kids aren't so little. 
8. What is your favorite T.V show. I'm am all about the 'Big Bang Theory' I just love those nerds.
The Big Band Theory is a favorite. My favorite would have to be How I met your mother or the Office as a classic. I also love Master Chef, Once upon a time, and Shark tank. 
9. How long have you been blogging?
About a year and a 1/2
10. Do you speak more than one language? If so which languages do you speak?
I speak 2 year old, lol. I took 12 hours of Spanish and still can't carry a conversation. I also took some sign language courses… but if you don't use it, you lose it : / 
So now it is my turn to nominate my 10 bloggers that I like. Here are my questions for them:
1. What is your favorite breakfast?
2. What are you reading right now?
3. What do you like to do when you have a free afternoon?
4. What would be your favorite date night?
5. What is your favorite Thanksgiving side dish?
6. How did you decide on your blog's name?
7. What is your favorite store?
8. Where is your favorite place in the world?
9. What are your main inspirations for your blog?
10. What TV show character do you most resemble (in personality or in appearance)?
Nominated Bloggers:
1. Simply Serena http://simplyserina.wordpress.com/
2. What's Green with Betsy – http://betsywild.wordpress.com/
3. Fall Line Farms – http://falllinefarms.com/
4. Adventures in Health http://annasadventuresinhealth.wordpress.com/
5. Linds Eats http://lindseats.wordpress.com
6. Gypsy Kind of Life http://www.gypsykindoflife.blogspot.com/
7. Olivia's Palate http://oliviaspalate.com/
8. Three Well Beings http://breathelighter.wordpress.com/
9. From wine to Whine http://fromwinetowhine.com/
10. Adalyn Smile http://adaynasmile.wordpress.com/
Latest posts by Angela Parker
(see all)