Some posts on this blog contain affiliate links. If you click them, I earn a small commission. It does not cost you anything extra, but this commission helps support the work of running this site. The views and opinions expressed on this blog are purely my own.
Fall is my FAVORITE Time of Year!
Back to school is always exciting too, I always think of one of my favorite lines from "You've Got Mail" (even if I don't live in New York!)
As summer days give way to fall, it's back to school with busier schedules that can leave us with less sleep, less relaxing, and less sunshine and vitamin D. It's no wonder your family can start to move a little slow, and even start getting sick!
Thankfully, I've got a simple healthy solution to help everyone stay happy and healthy in this busy time of year!
In my house, I am all about prevention – which just means to help our bodies fight before we even get sick! One of my secrets for this time of year is…. Defend.
DEFEND is a blend of several  powerful essential oils that works to put your immune system in the best possible shape. With a blend of rosemary, eucalyptus, zesty lemon, and the rich spiciness of cinnamon and clove it's got what you need to give your system the boost it needs! (Plus, it smells like Christmas and holidays, so it is the perfect scent for your house too!)
Here's some of my favorite ways to use it around the house and for back to school!
1 DIY Hand Sanitizer Spray:
In a 2oz glass spray bottle, mix 20 drops of Defend and distilled water and shake well. Simply use it for sanitizing surfaces around your home or at school!
Pin this for later: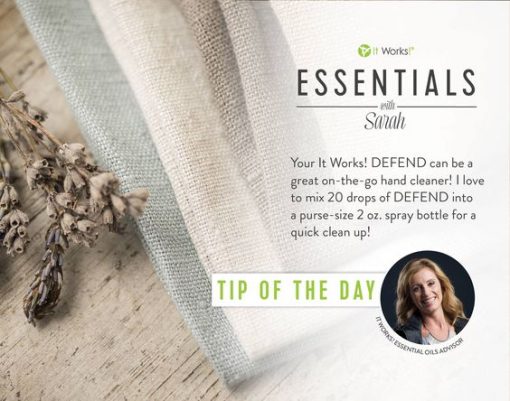 2 Diffuse with DEFEND:
Sleep is your body's time to reset and reboot. This is the perfect time to use an Essential Oil Diffuser and diffuse while you sleep (both Defend and Chill are good for this!) This will help you wake refreshed and ready to face the day!
3 Cell Phone Clean Up:
Did you know your cell phone is one of the dirtiest things you touch every day? Spritz a microfiber cloth with Defend and wipe down your phone screen at the end of the day. Simple maintenance goes so far with keeping yourself healthy!
4 Don't Be a Germ Sponge!
Speaking of germs, that kitchen sponge isn't as clean as you might think. In fact, studies have found that your toilet brush might be cleaner! Do you want to wash dishes with that?! If you like to use a sponge in the kitchen, keep your essential oils nearby. Dropping 3 drops into the sponge and then rinse well with warm water will go a LONG way!
My husband says having the right oil around is like a personal defensive lineman that will keep our family going!
P.S. As a bonus, here's a fall back to school blog roundup to help you get started with a BANG!
Latest posts by Angela Parker
(see all)