Some posts on this blog contain affiliate links. If you click them, I earn a small commission. It does not cost you anything extra, but this commission helps support the work of running this site. The views and opinions expressed on this blog are purely my own.
If you have little ones around the house, then you've probably had this issue.
Your kiddos don't want to brush their teeth!! Or they do the absolute minimum and you have to hound them to even do that.
Imagine this… Your kids BEG you each night to run and go brush their teeth!
Would that change your morning or bedtime?
Could it really get done WITHOUT the struggle? 
Our 7 year old had a specific thing she wanted for Christmas, an Amazon Dot, which is a little hockey puck like device which is voice activated and plays music, games, plus a ton of other "Smart Home" features.
We have decided as a family that we don't have TVs in bedrooms and tablets and what not aren't used in bedrooms (especially at night) but this ended up being a way that she could play music, dance, and enjoy herself in a way I could monitor.
Now, what does this have to do with Brushing Teeth?
Alexa (the platform that the Dot runs on) has add-ons called "Skills" and there is a brand new skill that has transformed Brushing time!
It's called "Chompers"!
Chompers basically is a 2 minute Podcast for kids where they will hear jokes, riddles, stories, fun facts, silly songs and more!
It's designed to "Keep them giggling – and brushing – for the full two minutes that dentists recommend."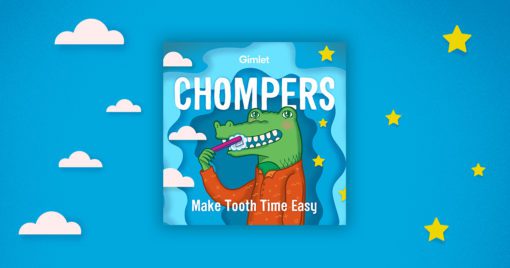 And guess what? It works!
My kiddos have begged to go "Do Chompers!" for the last 4 days, so I wanted to share this with you!
You can check out Chompers here, and you can even use it directly on your phone as a Podcast if you prefer!
I know that just having a little less stress around taking care of our teeth has been so nice for me! I hope this helps you too : )

P.S. Another big factor healthy teeth is getting enough fruits and veggies, check out 4 ways that I sneak more healthy fruits and veggies into my kids diets here!
Latest posts by Angela Parker
(see all)