Some posts on this blog contain affiliate links. If you click them, I earn a small commission. It does not cost you anything extra, but this commission helps support the work of running this site. The views and opinions expressed on this blog are purely the my own.
I can't believe my little guy is a week old already!
I didn't really think about the fact that having a baby over 5 years from my last would mean some different products and options would be out there. I wanted to share some of my FAVORITE things that I didn't have during my last delivery that made so much difference this time!
Here's My Top 6 Picks for New Mommies!
? One Week Post Partum Update ? My Top 7 Picks for New Mommies ✅

Posted by Angela Roshto Parker on Monday, December 3, 2018
Here's The Breakdown!
6 Must Have Items for New Mommies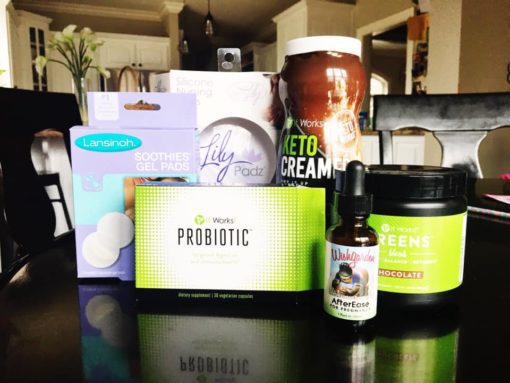 After Ease Supplement: Helps naturally manage your afterbirth pains. I had a lot of afterbirth pain with my second baby, so I wanted to try something this time for it. This made SO MUCH difference! I had to use very little pain medication thanks to this.
Soothie Gel Pads: Definitely getting started nursing again after 5 odd years was a little painful! These soothing gel pads are so helpful in between
Lily Pads: Silicon nipple shield helps ensure you don't leak as well as protecting against rubbing against your clothes. These have been super useful!
Probiotics: I struggled with constipation during the pregnancy and afterwards on all of my births, so I wanted to stay on top of it this time. Thankfully I found a great probiotic with multiple strains that really helped keep things moving for me! Even better, probiotics help keep my immune system healthy during the recovery and I am able to pass some of these onto my baby too, so yay!
Chocolate Greens: We all need good vitamins and minerals, especially during a recovery! I wish I had had a great green superfood blend 5 years ago, these are my go to morning products along with…
Keto Creamer: This creamer is great in coffee, tea, smoothies, and Keto Hot Chocolate! It's full of healthy fats and collagen to help my skin rebound as well as make sure I'm not getting hungry (without having to pig out).
And at least in my case, my girl are my #7! Having them has really changed this whole process, I'll be making a full post about it soon 🙂
What were your favorite things that helped during your first few weeks with a new baby?
Want to prepare for a natural labor?

My name is Angela. I have been married for 14 years and have two little girls (with another little on the way!) I'm a speech therapist by trade but started my own business from home 4 years ago. I am passionate about healing through nutrition, natural medicines, cooking with whole foods, and natural parenting. I strive to honor God with everything I do.
Latest posts by Angela Parker (see all)