Cauliflower Hamburger Casserole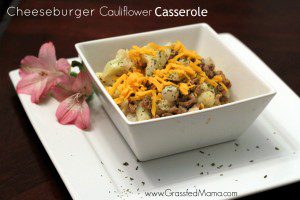 Angela Parker:
Angela Parker
1 tablespoon oil coconut oil
1 pound of ground meat
1 medium chopped onion
2 Bags of Frozen Cauliflower (or 6 cups of fresh)
½ teaspoon of glucomannan (optional)
1 cup of almond milk
3 cups of shredded cheddar cheese (reserve one cup for topping)
1 tsp of salt (more salt to taste)
¼ teaspoon of black pepper
1 tsp of crushed red pepper
1 tsp of garlic powder
1 tablespoon of Italian seasoning
Melt oil in medium high skillet.
Brown meat in oil.
Add onion and cook until translucent.
In a separate pan, steam cauliflower in a little water on stove.
Once meat is cooked, turn heat down to low-med heat.
Sprinkle with glucomannan, mixing in well.
Add in your almond milk and slowly stir in cheese.
Next add in your spices: Italian seasoning, salt, pepper, garlic powder, crushed red pepper.
Drain water from cauliflower.
Mix together your meat sauce and your cauliflower.
Keep warm until ready to serve.
Top with additional shredded cheddar cheese.
Recipe by
Grassfed Mama
at https://www.grassfedmama.com/2014/02/21/cheeseburger-cauliflower-casserole/