Some posts on this blog contain affiliate links. If you click them, I earn a small commission. It does not cost you anything extra, but this commission helps support the work of running this site. The views and opinions expressed on this blog are purely my own.
We are having a very exciting year! If you haven't been following our story on Instagram, you may have missed some of our recent adventures.
In February, my nephew passed away unexpectedly and it really help me put things in perceptive. We decided that since we had the freedom to live anywhere since we worked from home, that we wanted to move closer to our family (we were living 17 hours away.) Since we work from home, we could honestly live anywhere we wanted!
So in April, we put our house in Virginia on the market to sell… and in 3 days we were under contract!!
Now… where are we going to live???
We set out on a road trip to find the perfect place for a new home.
Both of our families are in North Louisiana, so we wanted to be within a 6 hour drive from our parents (instead of 17 hours!). We drew a big circle with a 6 hour radius and then started researching and traveling to the different cities inside that circle.
After about 3 months on the road, we finally settled on Bentonville, Arkansas!! What was kind of a surprise to us too, haha!
What I loved was the natural beauty of the area, plus all the amenities for families and growth – and the charm of a small town.
So now we need a HOUSE! We looked at probably a dozen houses, but when we walked inside this one… we knew it was the one!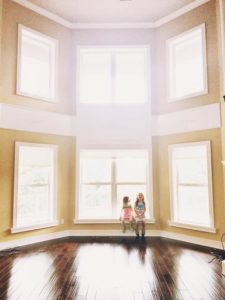 We have lived in a "yellow" house for the past 12 years, so I knew I wanted to update the color to a more modern gray. I wasn't ready to rip out the whole kitchen, so it would need to match the existing kitchen and fireplace tile…. this was going to be interesting!!
We went to Lowe's and got a few samples to paint on the wall. From what I learned was that paint looks different on the walls than it does on that tiny swatch of paper. We painted Mindful Gray (SW), Repose (SW) and I thought they were going to be perfect because I knew how popular they were… but when I got them on the walls… They both were a little too blue.
I learned that Gray was an interesting color… that every one had different undertones and you have to be careful. One of the samples we painted went on the wall and looked purple!
So back to the drawing board… what gray was neutral with no strong blue, green, purple undertones???
We ended up with Revere Pewter!!! (another popular color for sure)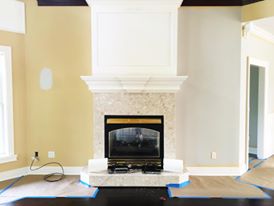 (Revere Pewter on the right)
When I looked at the color swatch, I didn't know if I was going to like it… but again paint on the walls is completely different. When the painters starting putting the color on the walls, we all knew it was PERFECT!
We are actually painting about 75% of the house this one color so it had to be neutral to go throughout the house: Kitchen, Dining Room, Great Room, Office, Loft. Because we were painting so much of the house, we did hire a painting crew to do the job – They were able to paint everything in about a week!
My Tips for Picking out the perfect paint
Get lots of samples and paint them on the wall.
Hold up your color swatch next to white to see if it has any strong undertones.
Look on Pinterest to find different styles and colors that you are drawn to.
Go with a friend. It is never a bad thing to get a second opinion when picking out a paint color.
Here are some other paint colors that were very popular: 
Repose Gray
Mindful Gray
Perfect Greige
If you have repainted your house recently or are looking at colors, what are some of your favorites?
Latest posts by Angela Parker
(see all)