Some posts on this blog contain affiliate links. If you click them, I earn a small commission. It does not cost you anything extra, but this commission helps support the work of running this site. The views and opinions expressed on this blog are purely my own.

How to Lose in Marriage
Losing in marriage isn't really talked about very often. No one wants to lose the argument or put others first. This is something that I have to make a choice to follow through daily. We are currently going through a series at Journey Christian church  by Andy Stanley called "Staying in Love." The general premise is that "falling" in love is easy, staying in love is much harder.
Make Love a Verb
Love can be a noun or a verb. For a marriage to last, love has to become active as a verb. I shared previously 30 ways to serve your spouse which is a great way to start putting love into action. 
Another action that we need to put into practice is loving through losing. 
Choose to Lose
You can be right or you can have a happy marriage. You are unlikely to have both long term.
I really struggle with wanting to be right all.the.time.
My husband has been so very patient with me as I try to grow out of this childish pursuit. I feel like I need to correct other people so they can be "right" like me. I'm doing them a favor after all.
I'm learning that in love, we need to value our spouse above ourselves (even their story telling, driving, the way they cook, how they load the car).
Phillipians 2:3-4

3 Do nothing out of selfish ambition or vain conceit. Rather, in humility value others above yourselves, 4 not looking to your own interests but each of you to the interests of the others.
My husband gets very annoyed with my correcting personality flaw. He will be telling a story and give information that in reality isn't the right information (the time, the order, the amount). I feel it necessary (like the world will end if I don't step in and help) to correct and make sure the the right information is given… despite how it makes him feel. Most of the time, this mis-information doesn't even matter. 
Adam (my husband) and I don't argue much. We are both fairly easy going people. We don't like confrontation and are both peace-keepers. But this issue is the one things that I know drives him crazy. 
A wife who is always correcting her husband is not showing him respect (how a husband values love). Ouch.
I could be right, or I could lose what is most important. I want to choose what to lose to keep my marriage. 
How to Lose
Phillipians 2:3-8

3 Do nothing out of selfish ambition or vain conceit. Rather, in humility value others above yourselves, 4 not looking to your own interests but each of you to the interests of the others.

5 In your relationships with one another, have the same mindset as Christ Jesus:
6 Who, being in very nature[a] God,
did not consider equality with God something to be used to his own advantage;
7 rather, he made himself nothing
by taking the very nature[b] of a servant,
being made in human likeness.
8 And being found in appearance as a man,
he humbled himself
by becoming obedient to death—
even death on a cross!
In our relationships, we need to follow Jesus' model. Jesus didn't use his status as a way to walk all over his followers. He chose to lose and submit himself under everyone else. He valued others above himself.
In marriage, we need to learn to defer to our spouse. We need to choose to lose. Make them the most important (above ourselves).
Choose to Lose in Your Marriage, so you don't end up Losing Your Marriage. 
One way to defer to your spouse, is to become interested in something they are interested in just to show love. You may not like a certain show, but you know they love it.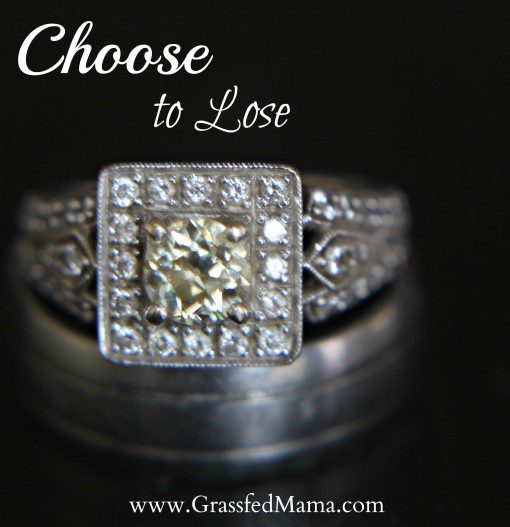 Choose to lose.
Engage in your spouse's interest even if you don't enjoy it. You may find that doing something together is way more fun when you decide you are doing it for love. 
See how this little change in mindset will change your actions. When two people in a marriage choose to lose, everyone wins.
Sometimes you have to choose to lose even if your spouse doesn't reciprocate… that's when real love shines through. Jesus calls us to lose, no matter what.
Let your spouse win. When you let your spouse win, your marriage wins. 
What are the ways you choose to lose in your marriage? 
This post is linked up to Welcome Home Wednesdays and Serving Joyfully and Fellowship Fridays and Marriage, Motherhood and Missions and Motivational Mondays
Latest posts by Angela Parker
(see all)