Graham Crackers
Grain free – Gluten free – Sugar free
I was making snacks for my family and really wanted a graham cracker. I couldn't find a recipe that fit all my needs. I ended up creating this recipe using ingredients I had on hand. I was really pleased with the cracker recipe. I served it with a cream cheese mint chocolate chip dip.
We try to eat gluten free in our house along with grain free and sugar free. It is pretty hard to find a cracker recipe that fits all of those requirements. I love that this recipe is not only easy to make, but isn't too messy either. This is a great recipe to have the kids join you in the kitchen to help.
This recipe is full of high quality ingredients and good for your nutrition you can feel good giving to your kids. No gluten here! These crackers are gluten, grain and sugar free.
This isn't just like a Graham cracker, but it is sweet and cinnamon flavored – just what I was looking for in a cracker!
This is how I made them:
Using two layers of parchment paper, press dough into a very thin layer to make the crackers the crispiest.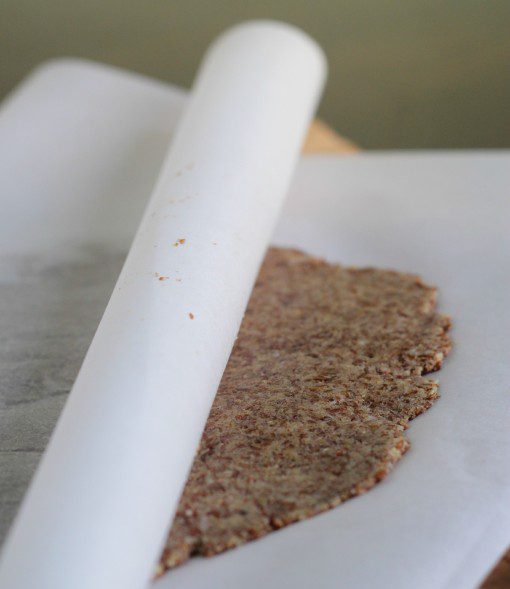 I baked mine on a pizza stone. I also baked it with the parchment paper under the dough to prevent sticking. I use a knife to cut them into squares. You can have more fun and use cookie cutters if you like.
I baked in my oven at 350 degrees for 18 minutes.
We enjoyed them with my Sugar Free Mint Chocolate Chip Dip

Sugar Free Graham Crackers
A sugar free version of your favorite snack cracker. This is also grain and gluten free too!
Angela Parker:
Angela Parker
Ingredients
¾ cup of ground flax seeds
¾ cup of almond flour
Slightly less than ¼ tsp of stevia extract powder like nunaturals (You can taste test to see if you like it sweeter. I like it between a ¼ and ⅛ a teaspoon)
½ tsp of salt
1 tsp of cinnamon
½ tsp of baking soda
1 tsp of vanilla extract
⅓ cup of liquid egg whites
1 tablespoon of coconut oil, melted
Instructions
Preheat oven to 350 degrees.
Mix all the dry ingredients together.
Next add in the liquid ingredients and mix together well.
Form a ball of dough, and place on parchment paper.
Place another piece of parchment paper over dough and use a rolling pin or your hands to form a very thin dough layer (about a ¼ an inch).
Cut your dough into squares or rectangles.
Bake crackers in oven for 15-20 minutes.
Let cool before serving.
Should keep for 1-2 weeks in sealed bag.
If you like crackers, be sure to check out my Almond Flour Cheese Crackers too and Click here for my favorite sweetener blend!
What's your favorite type of cracker?
This post is linked up to Allergy Free Wednesdays and Wake Up Wednesdays and Healing with Food Fridays and Nomday Monday

My name is Angela. I have been married for 14 years and have two little girls (with another little on the way!) I'm a speech therapist by trade but started my own business from home 4 years ago. I am passionate about healing through nutrition, natural medicines, cooking with whole foods, and natural parenting. I strive to honor God with everything I do.
Latest posts by Angela Parker (see all)