Some posts on this blog contain affiliate links. If you click them, I earn a small commission. It does not cost you anything extra, but this commission helps support the work of running this site. The views and opinions expressed on this blog are purely my own.

Grain Free Gluten Free Cheese Crackers
What kid doesn't like crackers? I know my daughter could eat a whole box in one day. Our family discovered last year that we are sensitive to gluten and feel best when we avoid it completely.
These grain free and gluten free crackers are so easy to make. Almond flour is the key to keeping these gluten free. I used my food processor to mix all the ingredients together. My 3 year old loves to help me in the kitchen and this was the perfect recipe for her to be included.
Here are all the main ingredients you are going to need:
After you combine everything in your food processor, place your ball of dough on parchment paper.
Then, you can press the dough into a very thin layer. Even the kids can help with this step. You can place another layer of parchment paper over your dough to make the process less sticky. Also you can use a rolling pin for extra thin crackers.
After you press the dough as thin as you can, use a knife to cut into bite sized squares.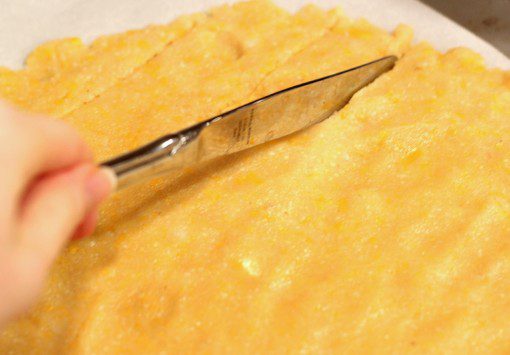 Bake in the oven for 12-15 minutes at 350 degrees.
For the crispiest cracker, you will want to press the dough as thin as you can make them. Also you can bake it a little longer. My husband likes them crispier than me, so I save him the outer-edge.
These crackers would also be good with some sour cream avocado dip…. yum!
I hope you enjoy these almond flour crackers for your gluten and grain free baking. 
Grain Free Cheese-Its
An easy way to turn your kids favorite cracker into a gluten free and grain free snack
Angela Parker:
Angela Parker
Ingredients
½ cup of shredded sharp cheddar cheese
½ tsp of salt
½ tsp of baking soda
1¼ cup of almond flour
1 egg
1½ tablespoons of coconut oil
Instructions
Preheat oven to 350 degrees.
Place almond flour, cheese, salt, baking soda in food processor and pulse until combined.
Add in egg and oil and pulse until ball forms.
Using parchment paper, press dough flat onto baking sheet.
Cut your dough into squares.
Bake for 12-15 minutes.
Notes
Optional add ins: Italian seasonings, chili powder, garlic powder, lime.
What are your favorite gluten free snacks for kids?
This is linked up to Trim and healthy Tuesdays and Tasty Tuesdays and Good Tips Tuesdays and Share Your Stuff Tuesdays  and Do Tell Tuesdays and Mamade Blog Hop and Growing Homemakers  and Wake up Wednesdays and  Allergy Free Wednesdays and Lovely Ladies and Wildcrafting Wednesdays and Thrifty Thursday and Let's Get Real Party Friday and Gluten Free Fridays and Family Fun Friday and That's Fresh Friday and Real food Fridays  and Healing with Food Friday's  and Savoring Saturdays  and  Simple Natural Saturdays and Good Tips Tuesdays
Latest posts by Angela Parker
(see all)