Some posts on this blog contain affiliate links. If you click them, I earn a small commission. It does not cost you anything extra, but this commission helps support the work of running this site. The views and opinions expressed on this blog are purely my own.

Winter Olympic Pine cone Skier Craft
The Winter Olympics are a fun event to watch as a whole family. The Olympics can be a great time to teach your kids about other countries and learn about competition events. Get your kids excited and active by making your own Olympians.
You can style them after their favorite Olympic Skiers or snowboarders:
Here are the supplies you need to make your own Olympic Pine cone Skier or Snowboarder: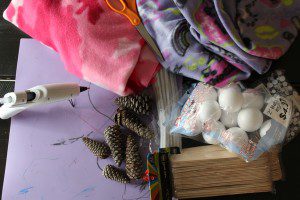 Large wooden Popsicle sticks (5 per skier) Pacon Wood Craft Sticks, 4 1/4″ x 3/8″, Natural, Box Of 1000
1 medium sized round Styrofoam ball (1 per skier for head) FloraCraft Styrofoam Balls 12-Pack: 2″ White
Googly-eyes (2 per skier) Watch them wiggle eyes, Black(500 PIECES) – BULK
Buttons (1 per skier for nose/mouth)
Pipe cleaners (1 cut per skier for poles)
Pinecones (one per skier)
Fleece fabric (3 inch diameter circle per skier)
Puffy Balls (one per skier for hat) Fibre Craft 65-Pack Twinkle Poms, 1/2-Inch, Multi
Hot Glue Gun and Glue
Step One:
Create your base for your skier/snowboarder by hot gluing your wooden sticks together. I lined up 4 sticks, then took the 5th stick and coated it with hot glue on one side. Then I laid the hot glue side down across (diagonally) the other 4 sticks.
Step Two:
Hot glue your pine cone on top of your wooden sticks, centered. Use ample amount of hot glue.
Step Three:
Cut your pipe cleaners to the right length to reach from the pine cone to the front of your wooden sticks to make ski poles. Hot Glue in place. You can obviously do this step later as I am showing in this picture.
Step Four:
Take your Styofoam ball and poke a hole in the bottom to help it sit on top of your pine cone. Fill the hole with hot glue and set on top of pine cone. Hold in place until it dries.
Step Five:
Hot glue your googly-eyes in place. You can be silly and give them two different sized googly eyes for fun. Be careful not to burn yourself.
Step Six:
Hot glue button in place for nose or mouth. The button nose makes them look like little skiing piggies.
Step Seven:
The hat: Take your piece of fabric. I used fleece because it won't unravel at the edges. You can use a different piece of fabric if you like. Cut it out to look like a Pac-Man head. Then take the ends and cross them over to make a cone. Hot glue the edges to hold the cone shape together and then hot glue your puffy ball on top. Once dry, hot glue to your skier's syrofoam head.
You are done! You can add extra fleece strips around their neck to act as a scarf or different personal touches to make your skier unique. I hope you enjoyed making your own winter Olympian Skier!
What is your favorite winter Olympic event to watch?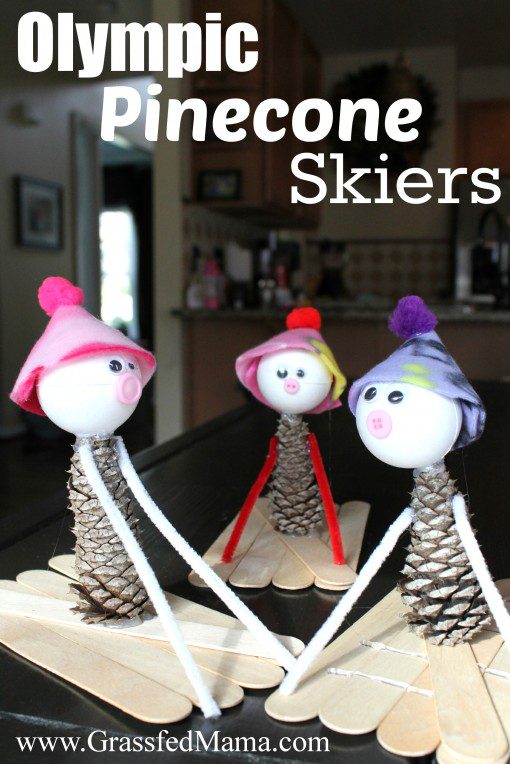 This post is linked up at Weekend Blog Block Party and Motivational Monday
Latest posts by Angela Parker
(see all)