Some posts on this blog contain affiliate links. If you click them, I earn a small commission. It does not cost you anything extra, but this commission helps support the work of running this site. The views and opinions expressed on this blog are purely my own.

This DIY Dry Shampoo powder is easy solution to help you go longer between washing and is full of all natural ingredients to keep your hair healthy.
DIY Dry Shampoo Recipe
I used to wash my hair every day. When I would go to the gym and be covered in sweat, I really felt like I had to. My hair dresser always told me that it was healthier for my hair if I could wash it only once a week.
There are more and more people moving to a no-poo hair routine (not using shampoo to wash hair, but baking soda and vinegar usually).
Women are finding that making a dry shampoo can make their hair stay oil-free longer and they can go longer between washes. 
Excessive washing of your hair can strip your naturally occurring oils from your scalp and can also change the natural pH of your scalp. When you wash your hair less, overtime you may find your hair is less oily than before.
I have noticed that washing my hair less often has decreased how oily it is between washes.
When I use dry shampoo, I add it to the roots of my hair and scalp to help soak up any extra oils.
It is also a little easier to style hair that isn't freshly washed. When I would get my hair done for a formal, my hair dresser always told me to skip a shower so my hair was a little dirty. You can use this dry shampoo to add that extra texture your hair may need to help styles stay longer.
Making your own DIY dry shampoo couldn't be easier.
You need just a few supplies (I order the clay and arrowroot online typically). I also bought the shakers that I use to keep the homemade dry shampoo in on Amazon (I'm a little addicted to online shopping).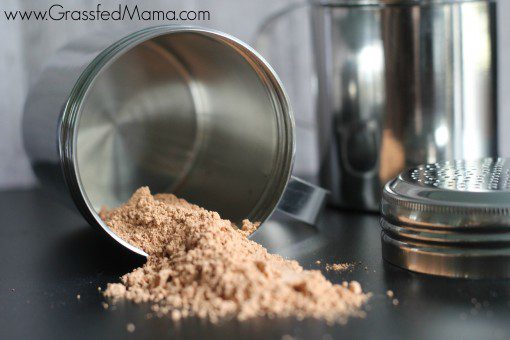 Here is the recipe for my super easy and simple homemade DIY Dry Shampoo:
DIY Dry Shampoo Recipe
Supplies:
1 cup clay (since I have red hair, I buy red clay. If you have lighter hair, then you would use white clay)
1/4 cup arrowroot powder
5 drops lavender essential oil (See more essential oils here)
Directions:
Mix everything well and keep in a shaker . You can use an empty shaker like a Parmesan cheese shaker or just use an empty baby powder shaker. Use by parting your hair and shaking the powder as close to the roots and scalp as possible. Use your fingers to work the shampoo into your scalp.
Benefits of Clay
Clay has been used as an all natural beauty product used for exfoliating, oil absorbing, cleansing, detoxifying, healing and soothing . Red clay is also full of the minerals: iron, calcium, silica, and magnesium.
How long do you go between washing your hair?
Most people want their hair to be as healthy as possible. But what they don't realize is that styling tools and hair products actually cause our hair to break and damage more easily. 
What's even more important is not so much what you put ON your hair, but inside your body that helps you grow healthier hair from the inside.
More Resources about Healthy Hair
10 Best Foods for Healthy Hair
Natural Skincare Ingredients that Work
If you are open to taking the hair supplement that I personally use to help me grow healthier hair and also helps my skin and nails too, click here for my exclusive savings discount and save 40% off all your orders as a loyal customer.
Check out my DIY Baby Powder {Talc Free} 
Latest posts by Angela Parker
(see all)