Some posts on this blog contain affiliate links. If you click them, I earn a small commission. It does not cost you anything extra, but this commission helps support the work of running this site. The views and opinions expressed on this blog are purely my own.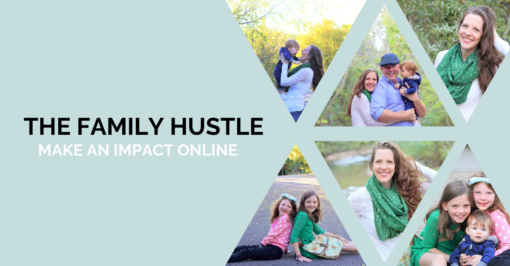 Have you noticed these new and sort of funny looking in Pins on your Pinterest page or app? Pinterest has recently started rolling out "Story Pins" which function similarly to the story and carousel features on Instagram, Facebook, etc. Today, I'm sharing How to Use Pinterest Story Pins to grow your organic reach on Pinterest.
But they have some unique features that are specific to Pinterest. So jump into the Family Hustle to learn all about these new pins, and how to use them to grow your brand and business!
Listen to the Episode
Read the Transcript
If you've been on Pinterest recently you probably noticed "story pins" showing up in your feed. They kind of look like carousel posts that you might see on Instagram where you can swipe through and see the different slides. But how can you use these story pins in your own business? And where can you repurpose other content to create story pins on Pinterest? So let's get into that today on the Family Hustle!

Story pins on Pinterest are a relatively new feature. And as with all platforms whenever they have new features you always want to lean into those because those features are going to be shown to more people.This is because all these platforms LOVE to just show off their new features. Pinterst isn't different and that aspect and so now that they've released this new story pin feature you should know how to use it. But you should also learn how to repurpose some content that you may already have.
(This post has a bunch of information on how to repurpose content you likely already have!)

So to start, please note if you want to use these story pins, you have to have a business Pinterest account. If you are running a business on Pinterest, you really should have a business account anyways. Thankfully, it's completely free and you also get access to a ton of useful tools and analytics, so you want to do that right now before you proceed.
Now I have been creating most of my story pins from my app (the Pinterest app on my phone). So you just push that little plus button on your app and then it says pin, then story pin and on mine it says early access. But it appears it's available to everyone now. So then I click on that and then it says "what's your story" It can about it recipes crafts, or DIY or something else. I often share recipes, but I don't usually share step by step by step recipes on my stories as that's something I might want to include in my blog (I have a ton of my top recipes right here!) But I have seen several people who are utilizing recipes and other step by step guides as a part of their story pins.
So if your business has recipes or other step by step guides as part of the way this you that you share content, you may want to start doing some recipe type pins. And you can even create these pins in your Instagram stories! We've already talked about Instagram stories in another episode so if you want to learn more about that about reading engaging stories head there! But if you're doing recipes, you can just do step by step by step type posts (I do this, add this, add this, etc).

And then the last line of your story pin, you'll want to say for more recipes like this check out my blog or follow me or whatever you want to do the call to action on that last pin. You want to have some sort of call to action to help direct a follower to another resource, connecting with you, etc.

My only thing I don't like about story pins on Pinterest is that they don't link to your blog or whatever your website is. That's the big drawback about it but everything else I do like about it because, hey, they I have actually been doing more videos with my story pins, and they have been getting 10,000 impressions per pin on average! That an amazing reach for me, WAY more than if I just shared a picture on Pinterest that links back to my blog so that's something that I really, really like. And if you're building a personal brand, it's a way for you to show your face while also giving value to your readers.
A few tips on Pinterest Story Pins
Make sure that your title is attention grabbing, just like any blog post or any post or any video you make. You want to ensure it's going to be SEO friendly. Let's say you are sharing a low carb high protein shake or something like that. So that's will be your title.

The first thing in the pin is the cover, you can either do it as a still photo with the title on it or as a video, which I personally would recommend. I feel like people are more likely to stop when they see the video on Pinterest. So for instance you could do the cover as a video of a middle step of like blending a mixture up, or it could be a panning sort of video where you're like showing it in the glass and what the final product looks like and you overlay the title on that video.

But then as you go step by step by step through the process, then you can even state those steps. Perhaps "just add a scoop of vanilla protein powder, and for my recommendations on protein, check out my blog" or something like that. You can use this as a way to highlight products within your stories, especially since Pinterest is showing my story pins to WAY more people than just a regular video pin. The story pans are getting CRAZY reach and so I want you to think about that how can you start sharing more story pins.

Repurposing Content
So this is the section big idea today. You're likely already creating stories on Instagram. And a lot of times, you're probably teaching something or demonstrating something in those stories. You may even be already sharing this to Facebook. Sometimes you can turn them into an IGTV if they're long enough or, or even a TikTok if it's something that you wanted to add some music to or what not to make it a quick teachable moment.


Not on TikTok yet? Well give it a try and let's connect at @Grassfedmama!
But you can easily use those Instagram stories and turn them into a Pinterest Story Pins! That's what I've been doing, and I'm going to tell you it's been amazing so far! I have been getting crazy reach not adding anything else to these pins. It's actually less work than creating a video, making a blog post and putting all that together. This is just thinking about content you're already created and using it in multiple places. But as always, you want to point your followers to your blog, your podcast, or even to your Facebook group when you have great content. So why not use Pinterest and make your call to action to point them to your Facebook group, your website, or wherever you want to point them to follow you for more tips and great content.
So thinking about all that and how you can utilize these Story Pins to create more brand awareness, as well as more reach on Pinterest which is a search engine BEAST, it's worth your time to learn more about it! Pinterest, YouTube, and your blog has SEO as well because it's going to be indexed by Google. Instagram and Tiktok have some SEO abilities when using hashtags, but Pinterest is utilized by a LOT of people as a search engine, far more so than any of those other platforms. Thinking about that you DO NOT want to forget about using Pinterest to grow your business.
Not sure how to get started with Pinterest?


Now, if you're not using Pinterest yet and you're thinking, "What am I missing out on?! I'm so overwhelmed! I don't know how to get started!".

Not to worry! I have put together a step by step getting started about how to use Pinterest to grow your business, because I know how huge it was for me. And it helped me get my reach out there and help me get more opt ins into my lead generation, without having to follow and unfollow and do all that crazy stuff because it IS a search engine.

But if you don't know how to harness that, then this course is for you and it's super affordable (way less than comparative courses). I've got an exclusive discount for my readers dropping it below $50!

You're going to want to invest in yourself to learn how to use Pinterest, how to create pins that are showstopping, and how to utilize this to explode your business organically.

My Pinning for Profits course will help you grow your business organically on Pinterest and how to get started to expand your reach using that search engine optimization that Pinterest is SO great at! I can't wait to hear about your Pinterest campaigns and your pins and how you are using that to grow your business!
Are you a Pinterest user already? How are you liking the new Story Pin Feature?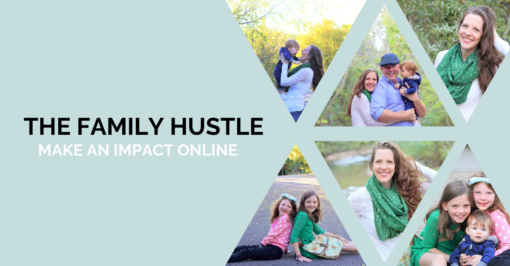 Listen to more episodes of The Family Hustle Podcast
Latest posts by Angela Parker
(see all)