Some posts on this blog contain affiliate links. If you click them, I earn a small commission. It does not cost you anything extra, but this commission helps support the work of running this site. The views and opinions expressed on this blog are purely my own.
Chocolate Cheesecake Balls  
There are some truths that can not be disputed. 
Good is good…. and so is cream cheese and chocolate! 
When you combine cream cheese and chocolate, there will always be a party in your mouth. 
This is such an easy recipe that is sure to impress. I really think the middle taste like a 3 Musketeer's Candy Bar. The creamy texture and chocolate go together so well. You will think you are cheating with every bite! 
My husband says these are a winner! 
Using cream cheese adds protein to your treat, so you will not have a crazy blood sugar roller coaster ride and will feel satisfied. 
After you make the chocolate and cream cheese mixture, you can refrigerate it to make it a little easier to roll into balls. You may can skip this step and move right into rolling though. I made the cream cheese and chocolate mixture and left it overnight and roll in the morning.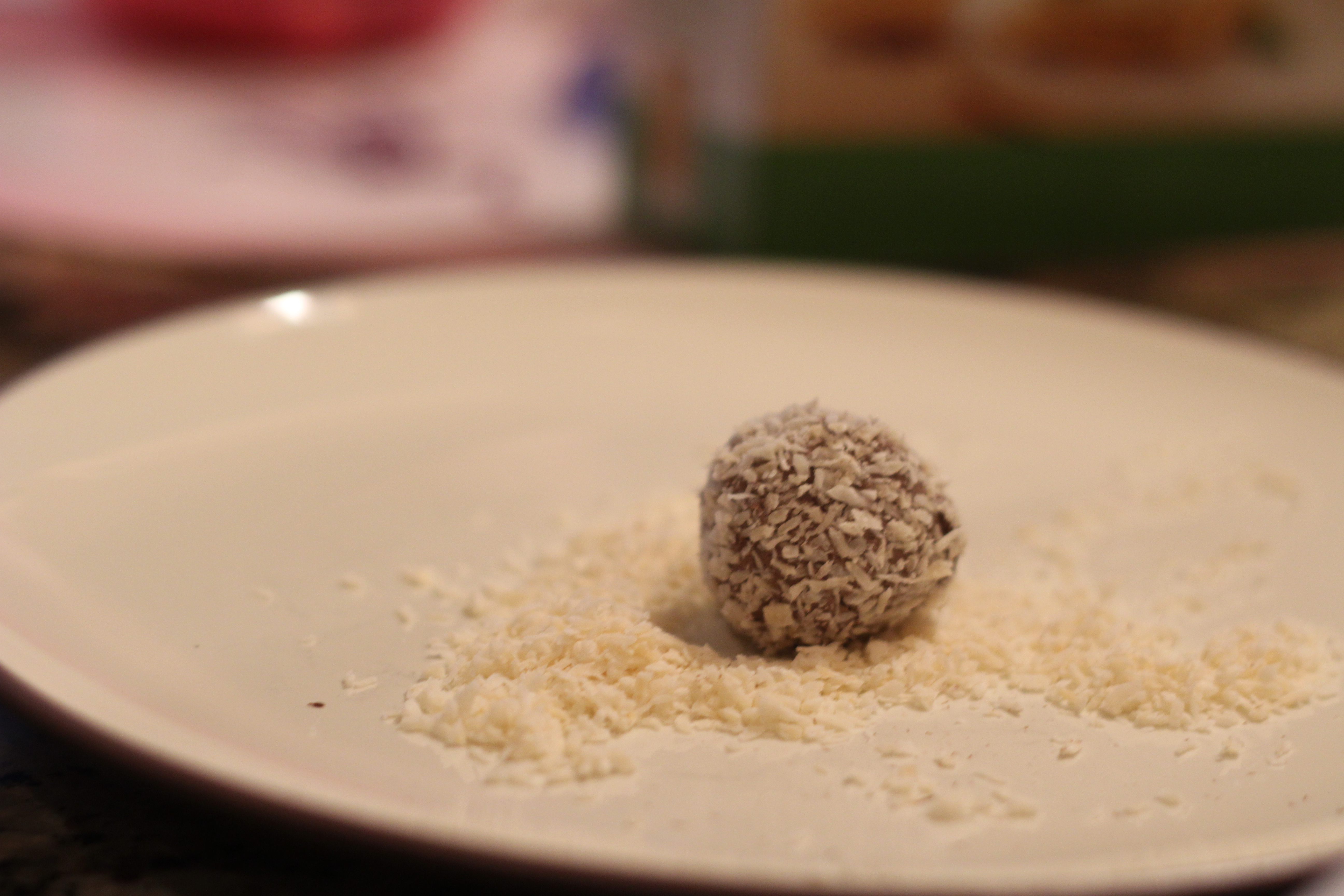 (Affiliate Links)
So much fun to make too!
My daughter wanted to roll these up. These would be so much fun to make while drinking some hot chocolate and putting a Christmas movie on for the family to watch. Start a new holiday tradition! or add to your Christmas cookie list! 
Trim Healthy Mamas 
Trim Healthy Mama's this would be a satisfying treat with the coconut and cream cheese. If you don't like coconut, you could try to roll them in finely chopped nuts or some dark chocolate cocoa power with a little bit of nunaturals.

Chocolate Cheesecake Balls
An easy satisfying treat for your chocolate and cream cheese cravings
Angela Parker:
Angela Parker
Ingredients
16 oz of cream cheese softened (either ⅓ fat or fat free would work)
½ cup of coconut oil
3 tablespoons of xylitol and a few shakes (5-7) of stevia powdered extract (taste test to see if you like it more or less sweet)
4 tablespoons of dark chocolate cocoa powder (or regular cocoa powder, you can use more or less depending on how chocolaty you want your cheesecake)
pinch of salt
1 tsp of vanilla
unsweetened shredded coconut
Instructions
Mix cream cheese, coconut oil, xylitol, stevia (or other sweetener), cocoa powder, salt and vanilla in a mixer. (taste just a little to make sure it is sweet enough for you)
Refrigerate for one hour.
Once hard enough to roll into balls. Take a tablespoon of the cheesecake mixture and roll into a ball.
Then roll the ball into unsweetened shredded coconut.
Keep in fridge covered.
Nutrition Information
Calories:
3981
Fat:
396g
Saturated fat:
297g
Unsaturated fat:
62g
Trans fat:
0g
Carbohydrates:
107g
Sugar:
56g
Sodium:
1680mg
Fiber:
40g
Protein:
45g
Cholesterol:
499mg
We are serving these at my daughter's third birthday party! I can't believe she has grown so much the last year. To read her birth story click here. 
Wishing you the Happiest of Holidays!
Remember the reason we celebrate this time of year,
because God gave us the first gift on Christmas! 
This recipe has been linked up to Gwen's Nest Trim and Healthy Tuesdays! Go check out her helpful tips for busy moms! 
Also linked up at Made From Pinterest 

Latest posts by Angela Parker
(see all)