Some posts on this blog contain affiliate links. If you click them, I earn a small commission. It does not cost you anything extra, but this commission helps support the work of running this site. The views and opinions expressed on this blog are purely my own.
A Trim and Healthy Holiday Goodie Swap Party!
One of my favorite memories of the holidays is having a party where you all bake the best goodies to share. I would make all these tins full of goodies and give them to co-workers, neighbors and friends. It is an easy way to show people you are thinking about them without having a spend a whole lot of money during the holiday season.
You can share these goodies with other Trim Healthy Mamas or you can show how easy it is to follow the plan and eat such tasty foods!
Here is a list of the best Trim and Healthy Goodies to Swap at your holiday party!
Fudge is a must at a holiday goodie swap. One of my favorite memories is eating my grandmother's fudge and divinity at her house on Christmas. That fudge was obviously not Trim or Healthy.
Thankfully, Trim Healthy Mamas can enjoy these fudge recipes this holiday while not packing on any pounds and enjoying the holiday season.
This first fudge is a cream cheese fridge fudge! It is sure to satisfy any fudgy creamy cravings you may have.
The Frugal LowCarber Brings us this Fridge Fudge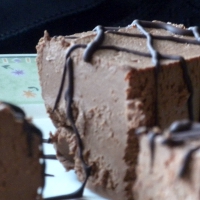 or you can try Gwen's Coconut oil Fudge
I'm a sucker for nuts! Here's Sheri Graham's Caramel Pecans – Oh my! I also love Crockpot Cocoa Almonds from Stacy Makes Cents
Gwen's Buckeyes are sure to make the list!
You can't forget the cookies!!!
Cookies are the quintessential part of a Christmas Goodie Swap Party! Trim Healthy Mama do not fear! There are plenty of cookies that are healthy and will keep you Trim!
Here are Coconut Flour Cookies from Counting All Joy
No Bake Fudgy Cookies are one of my favorite cookie ever! So easy and so yummy too! I love the shredded coconut in these as well. You could add some almond slivers to make it extra special!
Almond Joy Bites from The Blue House Blog
Ice Cube Tray Chocolate Covered Cheese Cake from DamyHealth.com
Fill some bags of Stevia Sweetened Kettle Corn to give to teachers or friends!
Other recipes to try at your Goodie Swap:
Peanut Butter Cheesecake Balls
and don't forget the Skinny Chocolate!
6 Trim and Healthy Holiday Drinks
10 Trim and Healthy Pumpkin Recipes
This recipe has been linked up at Trim Healthy Tuesdays over at Gwen's Nest. Go Check her out to see helpful tips to stay on plan!

This Recipe has been linked up to Measuring Flower's Nomday!
Latest posts by Angela Parker
(see all)