Some posts on this blog contain affiliate links. If you click them, I earn a small commission. It does not cost you anything extra, but this commission helps support the work of running this site. The views and opinions expressed on this blog are purely my own.
When I started my online business, I wanted to create a product I could sell and earn passive income. Today I'm sharing How to Create Your First Passive Income Product and how you can start earning extra money online.
How to Create Your First Passive Income Product
Imagine waking up in the morning and seeing several notifications that you have sold something during the night without you having to do anything.
This really is the dream right?
This is the beauty of creating a passive income product that can sell itself online and give you an extra stream of income.
What is a Passive Income Product?
A passive income product is something that you create once and then it can generate income month after month without having to spend more time on it.
This can be an ebook, a PDF download or even a mini course. There really are no limits to the different passive income product ideas. For me personally, I have been creating e-books as my passive income product.
On the Family Hustle Podcast, we talk about how you can create and launch your first passive income product and how it really can be easier that you think.
Listen to the Podcast




Grab Your Online Income Ideas Freebie ?
22 Ways to Earn Income Online


.
Find the Show Notes:
.
GrassfedMama.com/podcast

Connect with Angela
Are you ready to attract your ideal customers online?
After you create your product, how to do you use social media to attract your ideal customers to you?
I've put together a 5 day Attraction Marketing Bootcamp to learn the strategies I have used for the past 6 years to attract my ideal customers to me and then be able to offer products that help them solve their problems.
If you are ready to learn the skill of attraction marketing and how to implement it into your own online business, click the button below to grab this in depth 5 day course and grow your online business faster!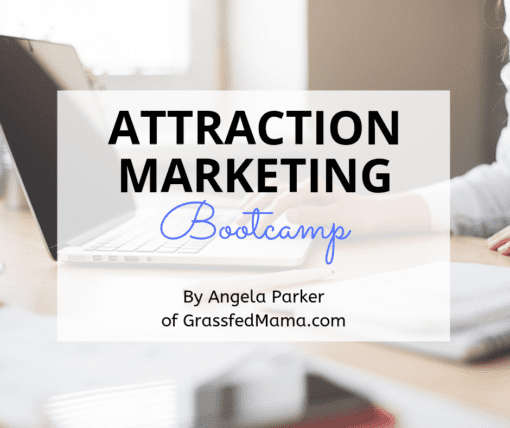 Latest posts by Angela Parker
(see all)