Some posts on this blog contain affiliate links. If you click them, I earn a small commission. It does not cost you anything extra, but this commission helps support the work of running this site. The views and opinions expressed on this blog are purely my own.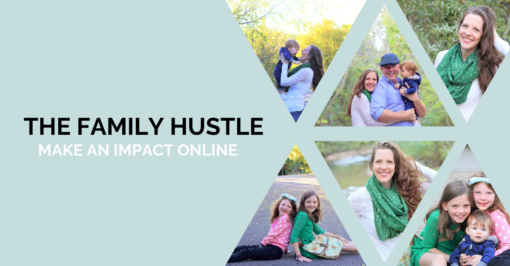 How do you find focus, clarity, direction after you have felt lost for a little while? Today we are talking about How to Stay Motivated when Life Gets Hard by creating a vision of who you want to become to clear that you can't ignore it.
How to Stay Focused when Life Gets Tough
How do you find focus, clarity, direction after you've been feeling kind of stuck, and lost for a little bit?
We're going to talk about that today!
I was tuning in to Rachel and Dave Hollis' podcast and listened to an episode where Dave was talking about a time when he felt lost and what he did to get him back on track.
There was one activity that kind of saved him. He shared that he started to focus on creating a vision – a vision of who he wanted to be when he turned 50.
And so here I am, I'm sitting here I'm 35 and 50 seems kind of far away…
So I started thinking "where do I want to be at 40?"
I'm going to be turning 40 in five years. Where do I want to be as a 40 year old mom of three kids and business owner?
From there, I can think about five year goals and then even 10 year goals.
Create a vision of where you want to go.
So many people get lost in the daily activity… the daily grind. They lose focus of why they are showing up… who they are growing into… the bigger impact they are working towards.
You're building a legacy… you're building a business that sustains. It is something that you have to work on every single day – just like a healthy lifestyle.
Thinking about what are healthy habits that you can do every single day consistently, that help me become the healthy mom I want to be for my kids.
I want to have energy and confidence to just show up as who God created me to be – and because of that vision I can stay focused when it is hard to make healthy choices.
Now, that doesn't mean that I don't splurge or that I don't go out to eat on vacation – But what it DOES mean is whenever I get home I haven't forgotten who I want to be long term.
And I think that's where a lot of people who struggle with staying consistent or lose focus on their goals… they forget where they're going… who they are growing to become.
If your long term vision is important, you will focus on where you are going and you can think about… What would future me do?
What I learned as a long distance runner
I ran long distance in high school… and I remember showing up to my first practice and thinking I was going to die.
The coach just asked us to run about 2 miles… around the property of the school.
Day one… I struggled to run 2 miles… I had to take breaks and walk for a few yards, then I would start running again.
But we had a vision that we would work each day and learn new skills to grow into the team who could win regionals.
We showed up every day and each day we could push ourselves a little bit harder and run a little bit longer.
…and all of that built up to our final race where we won regionals.
If I had focused on that first day when I could barely run 2 miles… it would have been easy to quit.
"I can't do this"
"This is hard"
"I'm not a runner"
But instead we focused on where we were going… and we broke that long term vision into daily and weekly skills to work towards.
In your life… you are going to have days when you don't feel like showing up… You are starting to see everything that isn't working right now and not what you are working towards.
What is a Vision Board?
That's why vision boards are so important. Yes, you can have a dream board that has material things you want to work towards… but a vision board is WHO you are working towards.
Who is the person you want to be in 5 years?
What does their day look like? What are they reading? Who are they hanging out with?
If you want the victory, If you want to grow into the person you want to become, If you want to be on the winning team, you have to do the daily practice… you have to show up consistently… you have to act like you are already that person.
Have you created a vision board yet?
Take some time to think about your five year vision, your 10 year vision. Where do you want to be?
It's not too late to create a vision for 2020.
What if you vision changes?
Maybe you need to reassess what you put on your 2020 vision of who you want to be and who you want to become and start thinking more of that long term five year, 10 year person.
Are you on the right track to grow into that person? What are you doing today that will get you to where you want to go?
If you need help and you're looking for a 2020 vision worksheet, I actually put one together just to help you. It's a guided worksheet to help you brainstorm and put all your ideas down so that you don't get lost.
You can look back in a couple months and say, "am I on the right track? Am I doing this the way that I want to go? Am I becoming the person I wanted to become?
Listen to The Family Hustle Podcast
The Family Hustle · EP 58: Creating Your 2020 Vision in May
How to stay consistent when things get tough:
Latest posts by Angela Parker
(see all)