Some posts on this blog contain affiliate links. If you click them, I earn a small commission. It does not cost you anything extra, but this commission helps support the work of running this site. The views and opinions expressed on this blog are purely my own.

Cheeseburger Cauliflower Casserole
As a kid, I loved eating Mac and Cheese. During the summer, my brother and me would live off of mac and cheese and grilled cheese sandwiches. This recipe is low carb and gluten free which makes it the perfect substitution for my childhood cravings.
We love cauliflower at our house. It is one vegetable that you can make into almost anything. I saw a recipe recently using cauliflower to make a cheese sauce that looked amazing.
This recipe uses a different ingredient called Glucomannan. I use it fairly often for thickening sauces. You can omit it if you don't have any or check out my store and order some. Learn more about Glucomannan here. 
I keep my glucomannan in a little shaker to make it easier to add to dishes.
This Cheeseburger Cauliflower Casserole is a good recipe to add to your weeknight rotations. It is quick and easy to throw together.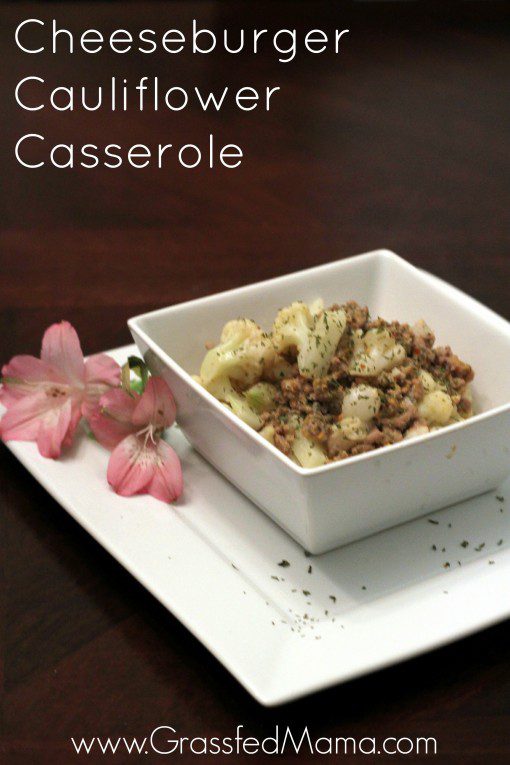 Cauliflower Hamburger Casserole
Low Carb Cheeseburger Cauliflower
Angela Parker:
Angela Parker
Ingredients
1 tablespoon oil coconut oil
1 pound of ground meat
1 medium chopped onion
2 Bags of Frozen Cauliflower (or 6 cups of fresh)
½ teaspoon of glucomannan (optional)
1 cup of almond milk
3 cups of shredded cheddar cheese (reserve one cup for topping)
1 tsp of salt (more salt to taste)
¼ teaspoon of black pepper
1 tsp of crushed red pepper
1 tsp of garlic powder
1 tablespoon of Italian seasoning
Instructions
Melt oil in medium high skillet.
Brown meat in oil.
Add onion and cook until translucent.
In a separate pan, steam cauliflower in a little water on stove.
Once meat is cooked, turn heat down to low-med heat.
Sprinkle with glucomannan, mixing in well.
Add in your almond milk and slowly stir in cheese.
Next add in your spices: Italian seasoning, salt, pepper, garlic powder, crushed red pepper.
Drain water from cauliflower.
Mix together your meat sauce and your cauliflower.
Keep warm until ready to serve.
Top with additional shredded cheddar cheese.
This has been linked up to Sweet and Savory Sunday  and Trim Healthy Tuesdays  and Allergy Free Wednesdays 
Latest posts by Angela Parker
(see all)