Some posts on this blog contain affiliate links. If you click them, I earn a small commission. It does not cost you anything extra, but this commission helps support the work of running this site. The views and opinions expressed on this blog are purely my own.
We just moved into our dream house!!! It has been taking up a lot of our time getting everything as we want (and I'm sure it is going to take a year!)
I call it our dream house, because when we sat down and wrote everything we would ever want in our house… this house had it! Which I never imagined we would actually live in!!
It is about 20 years old, so it does need a little touching up and modernizing, but we are up for the challenge and having a blast! 
I've been writing many posts about getting our new house, and I'm excited to share this tip with you!
My in laws (the original Fixer Uppers) are always such a great resource when it comes to fixing up a house to look like new. They bought their own Fixer Upper over 20 years ago and fixed up nearly every square foot. Thankfully our house doesn't need as much work and I can call on their help when I need it!
On our dream board, we both had listed "An Office." 
We are both working full time at home with our home based business  and it can be crazy when we need to take a call or just get away without a space of our own.
The office in our new house had been well loved… there is dark wood wainscoting around the perimeter and a built in desk.
Because it was well loved… meant that there were lots of scratches O.o
I'm sure we will eventually refinish the room, but for now we just needed a quick fix solution and my mother in law had the best trick!
We started with fixing a scratch in our new table, and it turned out so well I decided to try it on my wainscoting!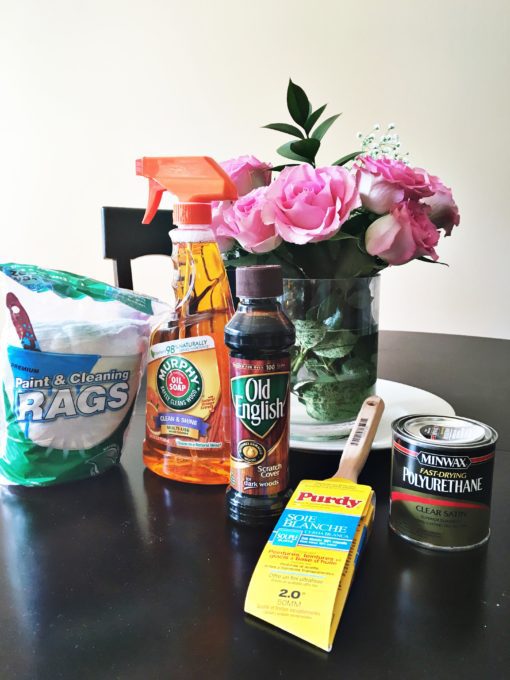 What you will need:
Step One
Clean the surface with Murphy Oil Soap… You want it clean from dirt and sticky fingers as much as possible before you start. Let Dry.
Step Two
Using a rag or Q-Tips for small areas, dab the Old English Scratch Cover and rub into the scratch. This is color the scratch so you can't see it.
The Desk needed a lot of repair. You can see on the right drawers and the pull out tray where the keyboard goes shows the most improvement. We used this technique all around the whole room! It was so easy to do, I am so glad we tried it before paying hundreds to refinish it!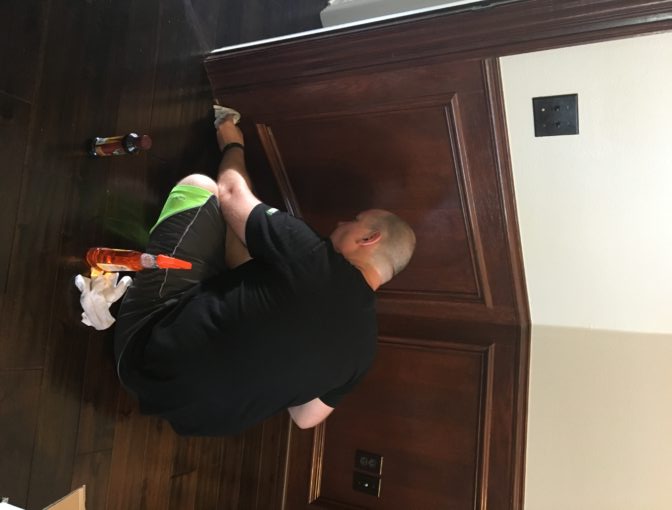 Do you have any wood that needs to be fixed?? Have you tried this before?
Latest posts by Angela Parker
(see all)