Some posts on this blog contain affiliate links. If you click them, I earn a small commission. It does not cost you anything extra, but this commission helps support the work of running this site. The views and opinions expressed on this blog are purely my own.
I'm not sure if you have seen, but we have had a very crazy year so far!
My nephew passed away unexpectedly and it really put a lot of things in perspective. We decided that we weren't going to put off a lot of things we had been throwing around and one of those was moving closer to our family. We work from home, so we had the ability to move anywhere.
We started by selling almost everything we had in our house in Virginia. We went through everything and if we didn't love it… we weren't going to move it.
We took a few months to narrow down where we wanted to live… found the PERFECT house… and now are slowly filling it with our touch.
As I'm writing this… we are almost done with the new paint and we just installed our new lighting.
Because we didn't move hardly anything with us, we had a lot of fun going shopping for some new pieces of furniture!
I was shopping for a new Dining Room table and Kitchen Table. With all the different styles, I finally decided I wanted in the Kitchen was a round pedestal table… and I found one that was so perfect!!!
It is by Paula Deen, and I think it was perfect for the style I was going for.
Now… I have Kids. O.o
Probably one hour after having my brand new table delivered… it had a scratch on it. I was so upset.
Luckily, my in laws were in town (they are seriously the original Fixer Uppers!) and they gave me this awesome tip to help protect my table and help fill in the scratch too. It was so simple I just knew I had to share it with you guys!
So here is everything you need to repair your scratches and help prevent any new scratches from occurring: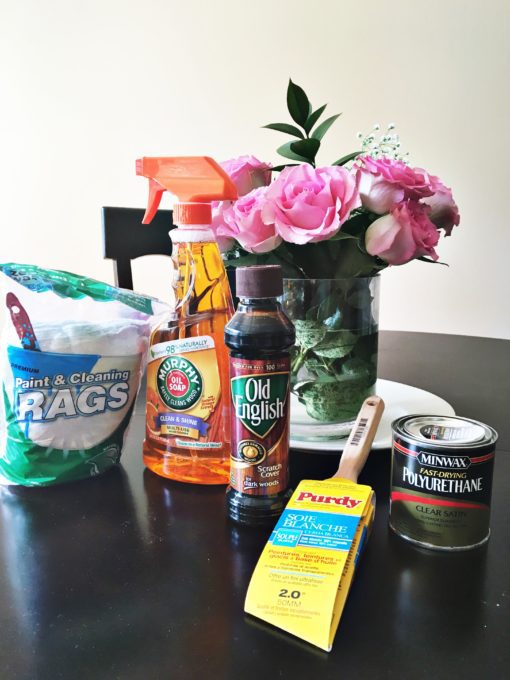 What you will need:
Step One
Clean. Use the Murphy Oil Soap and Rags to Clean your table well. You don't want any residue if you have had sticky fingers around.
Step Two
Use a clean Rag and apply a small amount of the Old English Scratch Cover right over any scratches you may have (if your table is new without scratches you can skip this step). Let dry.
Step Three
Using your softest brush, using long strokes with the grain of your table, apply the Clear Satin Polyurethane to your table. (You must do the whole table at one time and let dry before applying another coat)
We ended up doing two coats about one day apart.
This is what is going to protect your table from getting any new scratches.
We did use newspaper under the table to prevent any drips.
**If you happen to make a mistake, use the finest steel wool to remove the dried Clear Satin Polyurethane and then do another coat over the entire table. Remember you have to do the whole table each time you add a coat.
We actually did this same treatment on our kitchen table and our dining room table! I am so excited about how they turned out. You can barely even see where the scratch was originally and now it has a protective layer to prevent any more from happening.
P.S. If you are also shopping for new lighting, Check out my recent posts with my new lighting finds! 
Have you ever used Polyurethane? How did you use it?
Latest posts by Angela Parker
(see all)