Some posts on this blog contain affiliate links. If you click them, I earn a small commission. It does not cost you anything extra, but this commission helps support the work of running this site. The views and opinions expressed on this blog are purely my own.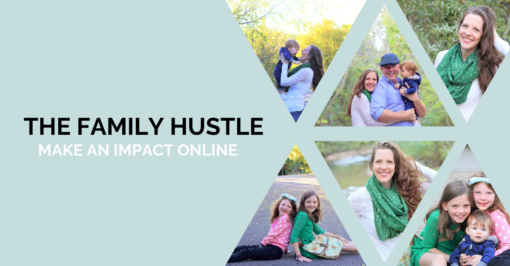 If you are a busy mom trying to grow an income online, then you may know that content marketing is a great strategy to build trust with your audience, but you may not realize the reasons why you should start a podcast and how that can create an evergreen funnel to attract new customers to you on autopilot.
The Power of Podcasting
Last year, I started listening to podcasts and I got hooked.
Adam (my husband) had been listening to podcasts for years and I just didn't get it… then I found some of my favorite coaches' podcast channels and realized what I had been missing!
Instead of having to tune into a video that I felt like I had to be glued to my phone or computer to watch, I now could take content with me in my ear buds wherever I wanted!
Podcast Pro Tip: A solid pair of wireless earbuds makes such a difference in being able to listen to audio on the go! This pair's battery lasts all day and sounds great!
After I realized the powder of podcasting, I launched my own podcast, The Family Hustle – where we show normal moms and dads how to earn an income online.
Can a Podcast Help You Grow a Personal Brand?
If you are trying to build a personal brand online then you probably know that providing value through content is the fastest way to attract and build an audience online.
A personal brand is how you are widely known either online in or in real life. Your brand is defined by how you consistently show up and what your message is.
Most people don't realize that they are already building a personal brand every time they post anything online by what they share, post, and the posts they are writing…
When you become intentional with how you want to show up and what your message is, then your brand becomes stronger and you can speak to the people you want to impact the most.
Having a podcast is a growing platform for people currently building personal brands or want to build a personal brand because it is a place your customer is already searching for topics.
This is a place where you can attract a brand new audience using search engine optimization and key words to help your ideal customer find you!
Why is it important to Start a Podcast?
First off, having a podcast sets you apart because at this point in time (it is mid 2020) there are more people searching for podcasts to listen to than there are quality podcasts to listen to!
A large majority of podcasts are lower quality "for fun" type podcasts that are neither distinctive nor particularly fun to listen to. You might be the person who has an angle on an idea that no one has jumped on yet!
It is a place where you can stand out and dominate your market.
Just like a few years ago, blogging was a way to set yourself apart because not everyone had a blog… but now there are so many blogs it can be a crowded space.
That isn't true for podcasting… not yet at least!
What makes a Podcast Different?
Everyone says that video is king… but audio content is rising into royalty.
I still believe that you should be showing up on video as much as possible… Face to camera is the fastest way to build trust and help your customers fall in love with you.
But, it is hard as a busy mom who rocks a messy bun most days to show up on video with your kids running around in their pj's.
Have you ever been there?
You don't have to look perfect.
When I realized that I could create content and not have to "dress up"… I realized the power of a podcast.
I can record a podcast in my pj's while drinking a reheated cup of coffee (at any time of the day) and schedule it to post when I'm ready.
This gave me freedom to hit the record button when I felt called to share and idea, topic, insight that I learned and I could stop waiting until I had my hair washed and make up on.
Click to Read The 3 Basics of Launching a Brand
Busy People listen to Podcasts.
Are you busy? Yep, so am I.
That's one reason I love listening to podcasts myself. I can pop in my ear buds and learn a new skill, hear an inspirational story, laugh a bit… all while I'm cooking mac & cheese or changing a diaper.
Seriously, this platform was made for me.
And it got me thinking… if my ideal customer is just a few steps behind me… then they are listening to podcasts too!
If I wanted to start attracting higher quality people, this was one place I wanted to be hanging out.
You own your content.
When you create a podcast episode. You own that audio file. You own that content!
It is the same reason why I think that having a blog is an important goal for anyone starting an online business, because it is owning your own piece of the online real estate.
Podcasts are the new blog.
This is one reason why I shared on my podcast that you shouldn't be building a social media business. This is a mistake I see a lot of people making where they build their whole business on borrowed land (Facebook, Instagram, YouTube, etc).
Having your own podcast is a great place to create content and point people to from social media.
What are the basics of Starting a Podcast?
First off, I would get a great quality mic because there are a lot of interesting people who have a podcast who I won't listen to because the quality isn't that great.
Host your podcast somewhere. This simply means somewhere on the internet where you store your audio files so that others can listen to them. There are a lot of services out there, but I personally use Transistor.fm since it's powerful, relatively inexpensive and easy to use. I originally used Soundcloud and it can be a good option for new podcasters, primarily because it's free to start and very simple to setup.
To edit, I use Wondershare Filmora. Because it's both a video and audio editor, it allows me to create video and audio which I love to re-purpose content to save time. Many audio only podcasters use Audacity as it's very powerful (and free to use) but has a more steep learning curve and is not as intuitive as Filmora in my opinion.
Now that my 2 Podcasts are live, go subscribe and check them out!
Before you launch you podcast though, you need to be crystal clear on who you are talking to, what your message is, and how you want to help people. For that, you need to know what your brand is.
5 Day Branding Challenge
Because I believe that building a personal brand is so important, I want to help you discover your authentic brand and help you become clear on how you can show up to attract and serve your ideal customer.
IN THIS FREE PERSONAL BRANDING SERIES, YOU WILL DISCOVER:
Why a personal brand is the foundation of building an income online.
Discover where you should spend your time
Identify what platforms you should use based on your skills.
How you can serve others using your unique gifts all online.
Latest posts by Angela Parker
(see all)