Some posts on this blog contain affiliate links. If you click them, I earn a small commission. It does not cost you anything extra, but this commission helps support the work of running this site. The views and opinions expressed on this blog are purely my own.
I mentioned previously about the idea of gender swaying in another post. We actually did sway with our daughter and it worked I guess. The more research I do, the more it looks like such a mild sway attempt – I need to give God all the credit of the sway! I feel he his ultimately in control of our gender choice and is probably laughing at any attempt we have at choosing our gender – I digress.
So our sway looked like this with our first daughter:
I was eating low protein, low salt, low fat, low calorie diet. We eliminated high potassium foods like tomatoes, bananas, and potatoes. I peeled everything I ate, because most of the nutrient in foods are concentrated in their peel (darker color usually too). I took calcium and magnesium supplements. I did spin class 3 days a week and ran on the elliptical 2 days a week – no weights. We timed intercourse to have a 3 day cut off before I ovulated (to have the lowest pH and right hormone balance before ovulation).
17.5 weeks later, I found out we were having a girl!
Now, I have recently completely flipped my diet to just the opposite of what I was eating when I conceived Aidalyn. I have been eating high protein, high fat, high nutrition (and do believe this is the best diet for anyone) But we are ready to try for another baby – I'm going to have to go against everything I know to be true and good about nutrition to get my body at a state for a girl.
The issue is that most research shows that boys are conceived when there is a high amount of nutrients present in the mother's diet along with more calories. Girl babies are stronger and heartier than boys and can survive better in the worst conditions and tend to be conceived more readily when the mom's nutrition is in a downward turn (although this may not be seen from the outside).
Example would be a breastfeeding mom. She from the outside is thriving, nourishing her baby, always hungry – but in reality most of her nutrition is detoured to her baby's milk. So breastfeeding does sway girl. Typically breastfeeding moms are also losing weight and have lower testosterone hormone levels and reduced fertility – which all sway pink.
– So I need less calories and less nutrition!
Here are some factors that I have researched that sway girl:
1) pH – You want to be very acidic and have a low pH – not healthy at all – Cancer thrives in low pH as do many other diseases, but so do girls (Boys can throw a joke in here if they like). Additionally, I am going to use repHresh and Sylk with are both designed to lower pH.
2) Having lower minerals/nutrients in your diet – low potassium, low salt. Eating a lower nutrient rich diet will sway girl. Eating low protein, low fat, low calorie, low everything.
3) Losing weight will sway girl by making you more acidic as well as doing a lot of cardio and not much weights.
4) Some data shows that calcium and magnesium supplements can help sway girl, but this is even controversial to some. Lots of cultures that value calcium rich foods in their diet don't end up with more boys – also most calcium rich foods are high in other nutrients as well.
5) Low blood sugar will sway girl.
6) Low testosterone and estrogen will sway girl.
7) Low sperm count in the hubby will sway girl.
8) Heat will sway girl. Heat can affect pH and hormones.
9) Artificial sweeteners (aka Aspartame) lowers pH the fastest (another reason why you shouldn't be taking it)
I am going to be off of my regular healthy diet for a few weeks (hopefully won't do too much damage!) to get my system to be as ready to sway for a girl as I can.
I'm going to take a few supplements that are supposed to sway girl: Saw Palmetto and Vitex. Adam will take Licorice root. I am also taking Folic Acid.
I'm going to eat as little protein as I can and try to eat fewer calories overall. I'm going to limit salt as much as possible. I'm going to cut off the peel of my vegetables and fruits to reduce nutrients. I will also try to keep a low blood sugar. I'm probably going to add back in some grains (YIKES! White rice is almost void of nutrition). I know there are also yam noodles at the Oriental Market that are zero calories. Who knows! I haven't quite decided yet.
What am I'm going to eat!?!
This is only temporary!! Can I do it???
I do want to say that I am seeing a professional care while undertaking this challenge.
I would love to ask all of you to pray for Adam and I. We obviously know that this it temporary and are in no way suggesting that any of you should do this to yourselves! We are comfortable with slightly pushing the odds in our favor for having a girl and feel like God can honor that. We believe our strongest fight in this sway is God. We love him and want to honor him with our lives. We have a strong desire for more children and would love another little girl in our lives. So, again, please pray for us.
Thank you all for your support! And I will keep you all posted.
Update: Our second sway was successful! I wrote an E-Book with all my information about swaying for a girl.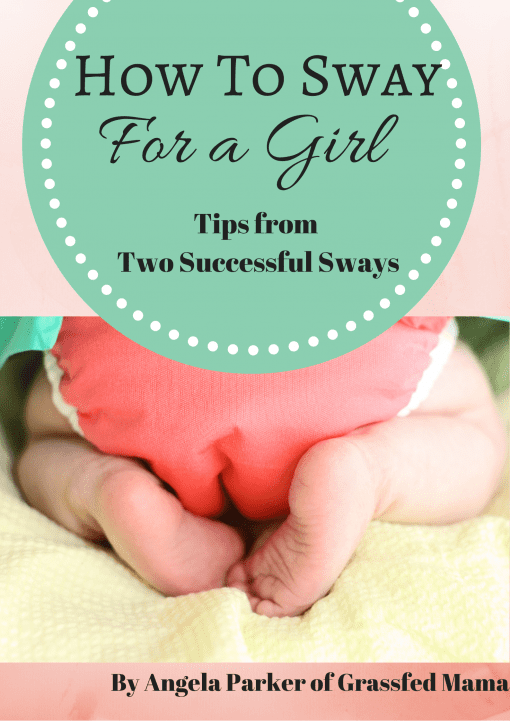 Latest posts by Angela Parker
(see all)