Some posts on this blog contain affiliate links. If you click them, I earn a small commission. It does not cost you anything extra, but this commission helps support the work of running this site. The views and opinions expressed on this blog are purely my own.

Baking with Coconut Flour
Baking with coconut flour can be a great way to eat low carb, grain free and keep all your favorite breads and cakes in your diet.
We've already talked about how great coconut oil is:
increasing metabolism, supporting immune system, promoting the absorption of vitamins, detoxing the body, promoting healthy cholesterol and heart health. Now we are going to talk about all those great benefits in a flour: Coconut flour.
Our bodies don't tolerate grains very well (wheat, barley, oats…). They are filled with phytates that bind to minerals in our bodies like magnesium. This overtime can leave us deficient in vitamins and minerals. You can soak your grains to help reduce the phytates, but it may be easier to incorporate more grain free foods into your diet.
Does that mean you can never eat a piece of bread again? What about cake?
There are two main flours that people who are eating grain free are using: almond flour and coconut flour. Those certainly aren't the only ones, but they are definitely the popular ones.
You can read here about some benefits of coconut flour to other flours. I haven't bought Dr. Mercola's coconut flour – we just bought Bob's Red Mill brand on Amazon.com.
There are a ton of recipes using coconut flour that you can make and not even realize you are missing the wheat. I found several grain free recipes by searching on Pinterest.
Check out my King Cake in a Mug that Uses Coconut flour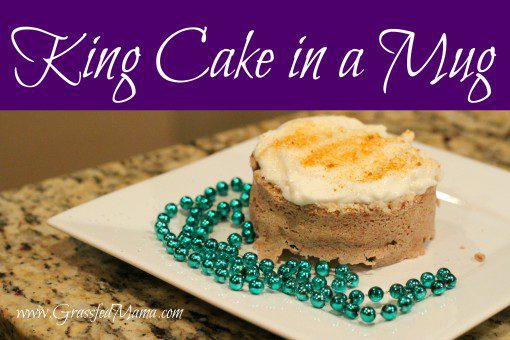 This is just one I found recently: original post here
3 eggs
1/4 cup applesauce (add more if you need more wet ingredients after you have mixed dry and wet together)
3 Tbsp honey or one teaspoon of liquid stevia extract
3 Tbsp melted coconut oil or butter
1 cup grated carrot
1 tsp vanilla extract
1 tsp cinnamon
1/2 tsp salt
1/4 cup sifted coconut flour
1/2 tsp baking soda
1/2 cup walnuts, chopped (optional) 1.5 tablespoons of poppy seeds
Preheat the oven to 375 degrees. Grease your 9x5x3 loaf pan.
In a large mixing bowl combine the wet ingredients: eggs, applesauce, honey (or stevia extract) and coconut oil or butter. Whisk to combine everything well. Add the vanilla and grated carrot and mix to combine.
Next, combine the dry ingredients In a separate small bowl: cinnamon, salt, coconut flour, baking powder and baking soda. Whisk to combine. Mix the dry ingredients into the wet ingredients and mix until incorporated.
Pour the batter into your greased pan. Bake for 45-50 minutes or until a knife inserted in the loaf comes out clean. Let cool completely before turning the loaf out of the pan.
Slice and Enjoy!
What other flours do you like using that are grain free?
Latest posts by Angela Parker
(see all)