Some posts on this blog contain affiliate links. If you click them, I earn a small commission. It does not cost you anything extra, but this commission helps support the work of running this site. The views and opinions expressed on this blog are purely the my own.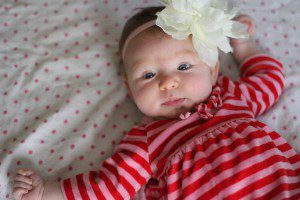 Annaleigh is 5 months old!!!
She loves: Her sister. Snuggles with mom and dad. "Way up high in the Apple tree" song. Sitting in her swing.
What's new: Sitting in Bumbo chair and ExerSaucer. Grabbing toys and bringing to mouth – uhoh teething on the way???
Dislikes: Long car rides. Being overtired. Mommy walking out of the room.
Working on: Rolling over more effectively. Sleeping in bed for longer periods (5-7 hours).
What we love: Her smiles and laughs.

My name is Angela. I have been married for 14 years and have two little girls (with another little on the way!) I'm a speech therapist by trade but started my own business from home 4 years ago. I am passionate about healing through nutrition, natural medicines, cooking with whole foods, and natural parenting. I strive to honor God with everything I do.
Latest posts by Angela Parker (see all)