Some posts on this blog contain affiliate links. If you click them, I earn a small commission. It does not cost you anything extra, but this commission helps support the work of running this site. The views and opinions expressed on this blog are purely my own.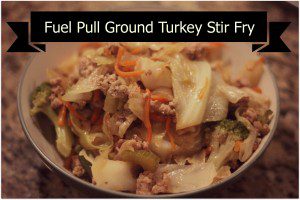 Trim Healthy Stir Fry (Fuel Pull)
I love Chinese take out… I love Chinese food!
These do not make me a Trim Healthy Mama…
But thankfully my favorite part of Chinese food is the vegetables.
Here is my take on a Better than Take out – or Take out-Fake out Chinese Stir fry.
This Trim Healthy Stir Fry uses glucomannan to thicken it. This is amazing stuff if you haven't tried it yet. You can read more about glucomannan here. It is a thickener that is gluten free, carb free, and taste free (so you can add it to anything!). You can thicken puddings, soups, or Trim Healthy Sir Fries. 
Trim Healthy Stir Fry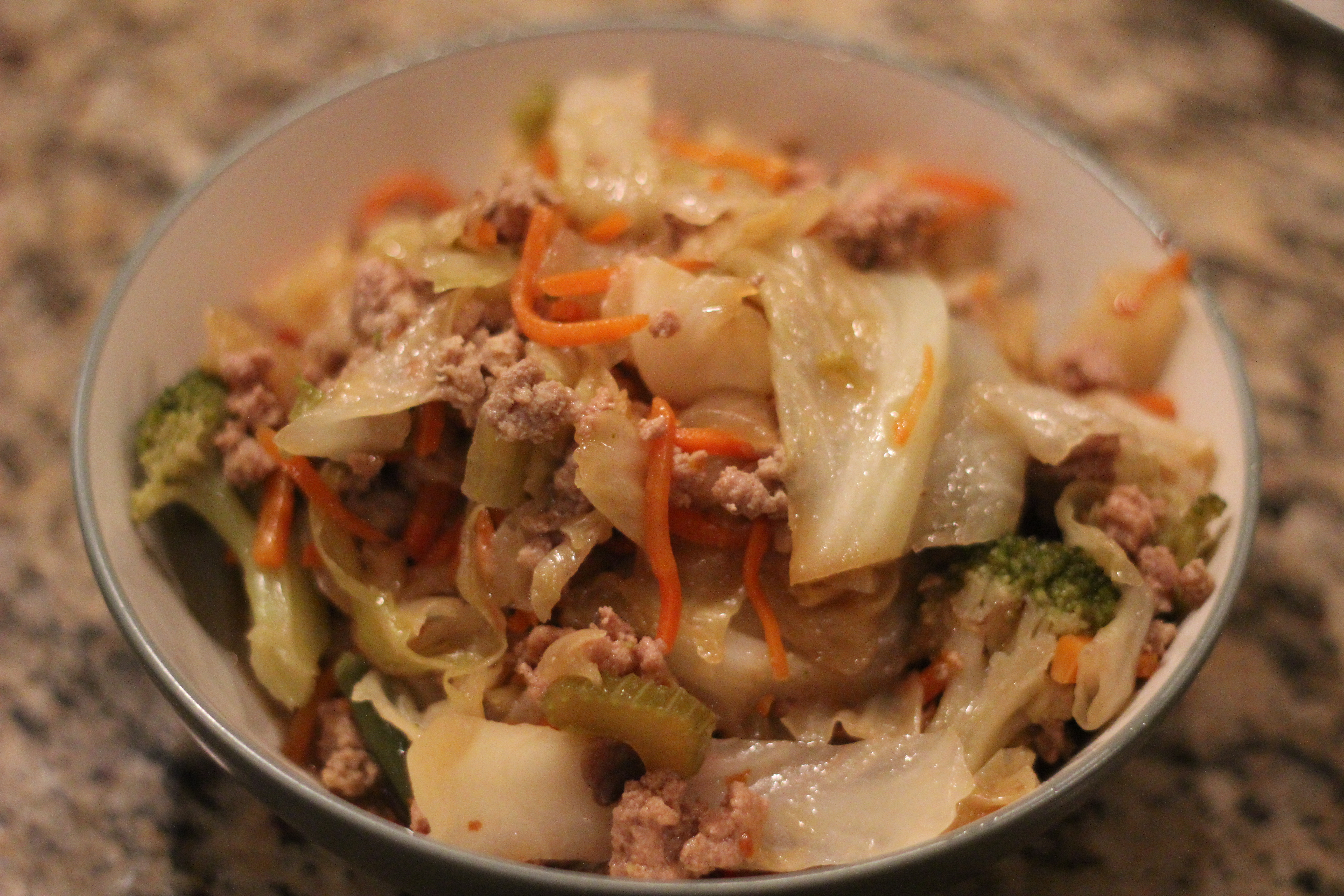 Trim Healthy Stir Fry - Fuel Pull
A quick and easy stir fry that is healthy and full of vegetables
Angela Parker:
Angela Parker
Ingredients
1 head of cabbage sliced
1 pound of lean ground turkey
1 Large frozen bag of mixed stir fry vegetables (or 2 regular sized)
1 onion (I only had ½, so that's what I used) chopped
½ cup Soy sauce, Tamari, or Bragg's Aminos
.5 cup of water
1 teaspoon red pepper flakes
1 teaspoon of ground ginger
1-2 teaspoons of salt (depending on how salty you like food)
2 cloves of garlic minced (or 2 tsp of garlic powder)
½ -3/4 teaspoon of glucomannan powder for thickening agent
Sprinkle of stevia extract (optional, if you like a sweeter sauce)
(You can add more garlic, onion powder or other spices as you like!)
Instructions
In a Large skillet (I use an electric skillet), add maybe one teaspoon of oil into pan and add your vegetables, 3 tablespoons of soy sauce and water. Sprinkle salt over the vegetables, cover to steam while you cook your meat separately.
Cook meat and make sauce: In a separate skillet, brown meat.
Once meat is browned, add spices, and rest of soy sauce.
Then, sprinkle the glucomannan powder over the meat.
Stir to combine well into the meat and sauce.
Then pour over the meat into the skillet with the steaming vegetables.
Stir to combine.
Continue to steam in covered medium high skillet for at least 10 minutes more or until cabbage is cooked.
Trim Healthy Mama's For this recipe to be fuel pull, your serving needs to have one teaspoon of coconut oil in it or less. You can omit the coconut oil in the steaming vegetables phase to reduce some fat per serving. If you want this to be an S meal full of healthy fats, then don't worry about how much coconut oil is in the meal and just enjoy. 
This Post has been linked up to Gwen's Nest Go check out her newest recipe:
Latest posts by Angela Parker
(see all)