Some posts on this blog contain affiliate links. If you click them, I earn a small commission. It does not cost you anything extra, but this commission helps support the work of running this site. The views and opinions expressed on this blog are purely my own.
Garden Vegetable Spaghetti Sauce
The best part of summer is all the fresh vegetables. You can find the most flavorful squash and zucchini at your grocery stores or farmer's markets during the summer months. This spaghetti sauce highlights summer vegetables in an easy to make meal.
I love vegetables. Don't you?
Spaghetti sauces are a fun family meal that everyone enjoys.
This is a flexible recipe too. You can add your favorite vegetables.
This tomato sauce recipe may be an easy way to get your pickiest eaters to try some new foods. By chopping up the vegetables into small pieces and your kids won't even know they are eating a new food.
I love this meal, because it is basically a one pot dinner.
I usually eat pasta sauces over spaghetti squash. When I can't find spaghetti squash, I will just buy regular squash and use my food processor to make squash noodles.
Using vegetables instead of pasta keeps this meal low carb. We try to eat lower carb in our house. This is a great way to enjoy your favorite Italian dishes when you are eating lower carb.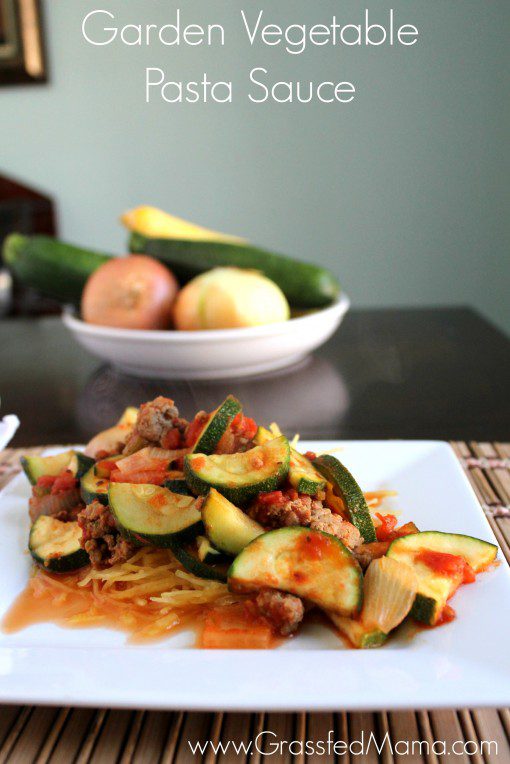 First, I heat up a pan with some coconut oil. Once the pan is hot and the oil is melted, I'll add my chopped onions, bell peppers, and minced garlic cloves.
I'll saute those vegetables for a few minutes until my onions start to soften. Next, I'll add my ground meat and seasonings.
Once the meat is cooked, I'll add my sliced zucchini and one large can of crushed tomatoes (you can use fresh if you would like).
While this meal is cooking on the stove, I'll cook my spaghetti squash. You can serve this sauce over your favorite pasta if you would like.
I usually let the sauce simmer for 15-20 minutes to soften the zucchini and also help the flavors really come alive.
Garden Vegetable Spaghetti Sauce
Full of the freshest summer vegetables and so full of flavor too, this pasta sauce is sure to please.
Angela Parker:
Angela Parker
Ingredients
1 tablespoon of coconut oil
1 onion, chopped
1 bell pepper, chopped
2 cloves of garlic, minced
1 pound of ground meat
2 tsp of salt
¼ tsp of black pepper
1 tsp of crushed red pepper flakes
2 tablespoons of Italian seasonings
1 tablespoon of Worcestershire sauce
3 zucchini sliced into half circles.
1 large can of crushed tomatoes
(optional: spinach)
Instructions
Heat skillet on medium high heat.
Melt coconut oil.
Add in onion, bell pepper, and garlic.
Saute until onion is translucent.
Add ground meat.
Stir, breaking up meat.
Add in seasonings: salt, pepper, crushed red pepper flakes, and Italian seasoning
Add zucchini to pan and stir to combine.
Add can of tomatoes
Add Worcestershire sauce
Simmer for 15-20 minutes.
Serve with spaghetti sauce or your favorite pasta sauce
What are your favorite summer vegetables?
Latest posts by Angela Parker
(see all)