Some posts on this blog contain affiliate links. If you click them, I earn a small commission. It does not cost you anything extra, but this commission helps support the work of running this site. The views and opinions expressed on this blog are purely my own.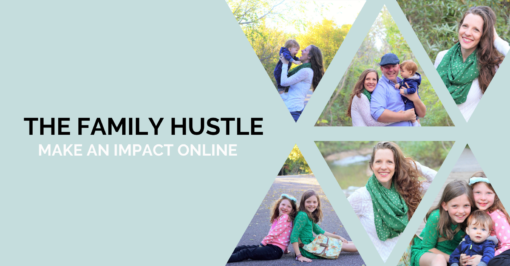 I'm here giving you a busy mom tip to help you build your business online. Today, I'm going to share with you a brand new app that I am loving to help me repurpose my content, create post ideas without wasting time and save me money too! This is The Best Free App for Making Transcriptions of Your Videos
I'm Angela. We help normal moms and dads chase after their big dreams in a modern online world in the midst of raising kids in what we call the family hustle.
My Favorite App for Making Transcriptions of Videos for Free
As many of you guys know, I love using videos to build connection and grow my business. But another thing that I'm really, really in love with is this podcast. Audio content is just really taking off.
Podcasting is so great for me because a it's an extension of my brand.
It is a place where I can do coaching, especially for the busy mom who doesn't have time to sit and watch a 10 minute video. You can put a podcast in your ear and cook dinner, do the laundry, go drive on your commute, and you can consume 20 minutes of content uninterrupted. It's amazing!
I want to talk about repurposing your audio content (and that includes video and podcasting) into written form. You do that through transcriptions.
A lot of people use a hub of either their blog or doing YouTube videos – they have a hub where they have their main source of content, and then they have branches where they can repurpose that same content.
You can turn a longer video into teaser videos or shorter videos for Facebook, Instagram, Twitter, Stories… You can use that video or that podcast as your main long form content, and then share different pieces of it for different places.
The Best Free App for Making Transcriptions of Your Videos
Let's talk about transcribing the audio of that video or podcast and how powerful that is…
I didn't really think about it whenever I started making video, I had several of my friends tell me "I don't have time to stop and watch a video" And they wanted me to write a blog post.
And that kind of opened my eyes, that there are people who like consuming content in different forms.
How do we transcribe our content so that we provide another way to share content?
There are some services that you can pay for Rev.com is one that I personally have used before and they work fast! But $1 a minute can add up if you are doing a lot of videos and want to do longer transcriptions.
There are also some people who you can pay individually who will transcribe your audio for you. You can go search on fiverr.com.
But I'm doing it all myself… and I found a way to do it really easily!
The app that I am using is called Otter. Otter is a free app right now and it is so worth it!
You can use this app, and it will even keep track of who's talking like the conversation and everything. It's Amazing!
As far as transcribing your podcasts or your videos for me I just played the replay of my video on my computer and used my computer speakers. I had my phone sitting next to my speaker and push the record button. It worked great!
I left the room and let it transcribe for a 15 minute video and came back in and then I basically had my blog post written. But I was able to write a 1300 word count blog posts to go with my video! Longer blog posts like that is amazing for your blog and for SEO.
There's so many benefits of having that kind of word count on a blog post because everything I'm seeing is that you want people to stay on your blog longer, and the way to do that is to have more words.
I started thinking a few weeks ago… What if I just added the transcription, along with my video or my podcast, it would add so much more value for the person who wants to read. It's a way to serve your people and meet them where they are.
If they would rather watch a video or maybe they start the video, and they connect with you, they're like oh this person's cool, but then they read the rest of blog posts, so it goes either way.
How to Use Pinterest to Grow Your Podcast and Blog
I've been spending time on Pinterest – just experience it so I know what is keeping my own attention so I know how to make my pins eye catching and everything – but also thinking about what's the experience whenever I click on a pin.
If you want more help with using Pinterest to grow your own business, I put a whole course together. It is the beginner's guide to using Pinterest to grow your business.
Pinterest, by far, has been the fastest way I have grown my blog. Most of my traffic comes from Pinterest organically.
But let's think about the user experience who is coming to your podcast or blog from Pinterest. Most of them are in the mode to read a blog post right then and not watch a video or listen to a podcast and that's why it's so important to transcribe.
We can use this free app to transcribe your video to make it easier for them to consume your content.
Turn your transcription into mini blog posts on Instagram or in an email.
This works even if you don't have a blog yet. Put your transcription into little paragraphs and make mini blog posts on Instagram. You can spread it out over a few days. Turn it into quotes and even an email for your subscribers! There are really endless ways you can repurpose your transcription.
Read More on Repurposing Content
Do you create some form of content is helpful every single week? And second, are you transcribing it so that you can repurpose your content?
Listen to the Family Hustle Podcast
The Family Hustle · EP 63: The One App You Need to Easily Create a Transcription of your Videos
Listen to More Episodes
18 Post Ideas for When You Don't Know What to Post
How to Grow Your Business as an Introvert
Latest posts by Angela Parker
(see all)