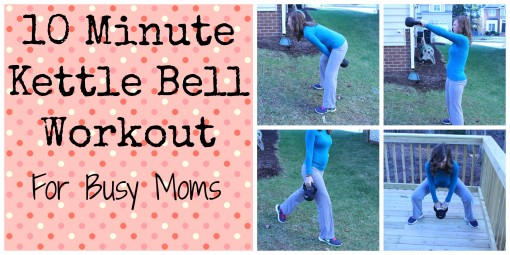 10 Minute Kettle Bell Workout
Guest Post for Modern Alternative Mama
Are you a busy mom trying to get fit? I know I used to go to the gym 5 days a week before I had kids… now we don't have a gym membership. That doesn't mean I've stopped exercising though.
I love a quick workout at home where I can get my heart pumping and feel a little sore the next day.
This 10 minute workout using kettle bells is perfect for fitting in a little exercise when you are feeling pressed for time. If you have more time one day, then just do the exercise 2 times through.
I like using kettle bells because it adds enough weight for me to build a little strength and also the movements make you engage your core and abdominal muscles.
The more and more I read about great core and abdominal workouts, the less I am motivated to do traditional sit ups and crunches. If you are interested in a different way to exercise your core, you can look into more tummy safe and tummy conscious exercises from Fit2B Studios (not an affiliate, just a member).

My name is Angela. I have been married for 14 years and have two little girls (with another little on the way!) I'm a speech therapist by trade but started my own business from home 4 years ago. I am passionate about healing through nutrition, natural medicines, cooking with whole foods, and natural parenting. I strive to honor God with everything I do.
Latest posts by Angela Parker (see all)