Some posts on this blog contain affiliate links. If you click them, I earn a small commission. It does not cost you anything extra, but this commission helps support the work of running this site. The views and opinions expressed on this blog are purely my own.
Before I became a mom, I didn't understand when I heard women complain about not having time to work out… but as soon as I became a mom myself, I realized how hard it really was to work out as a busy mom.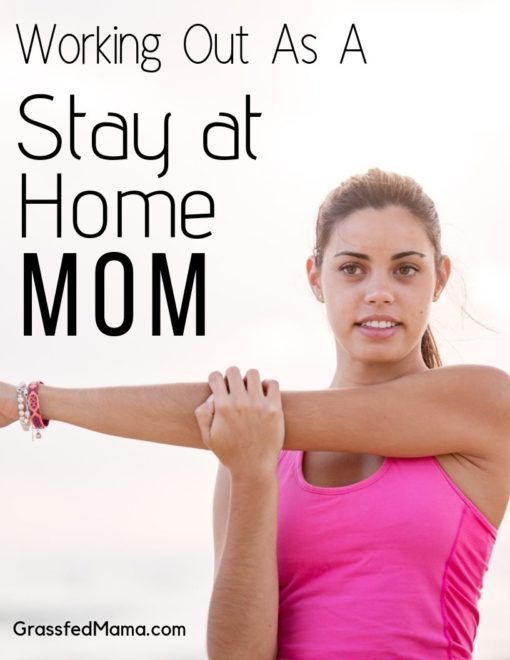 I like working out for the most part.
In Junior high and High school I was fairly active. I played tennis, ran track and cross country. I even played for my college tennis team for one semester!
So when Adam and I were first married, I worked out using my elliptical machine and some workout videos to do at home. We would fit in the occasional walk in the neighborhood.
After a couple of months, Adam and I joined a small local gym. I seriously thought I had died and gone to workout heaven!! I had never been a member of a gym before!! There were treadmills, stair steppers, and classes with LIVE instructors!
Adam and I were pretty dedicated during this time and I was in the best shape of my life. We would go to the gym every morning at 5 am and workout before work and school 5 days a week. 
Then life happened…
Anytime you have a big life event… your routine gets out of whack and it usually affects your workouts.
I got pregnant – I continued to fit in work outs, but with morning sickness and just being more tired – it was already harder than I imagined. 
I did more elliptical machine time as I got bigger. We were still working out at the gym at least 3 days a week waking up at 5 am and walking in our neighborhood 3 more days a week.
I was DETERMINED to stay in shape! 
But then my routine got thrown out the window once Aidalyn was born….
Has that ever happened to you?
You feel like you are finally on some sort of schedule or routine and then BAM! everything changes again. 
It was really hard to get back into a routine when I was taking care of a little baby and working part time as a speech therapist…
It just was hard to make it work.
10 Years later and three kids now, it is even harder to leave the house just to go to the gym.
In my stage of life right now, I'm focusing more on body weight exercises with some cardio components. This would be squats, lunges, high knees, jumping jacks.
We still enjoy going on longer walks together with the girls and use a stroller. I run up and down the stairs a few times a day as well. I love my FitBit for keeping track of my steps and helping me set some goals.
I think the best tip for me was to have FUN and make staying active a part of your family's culture. 
We go hiking together, riding bikes together, long walks… it just is part of our weekly routine to stay active together – and I personally love that more than anything. 
I'm showing them that staying healthy is important even for moms!
I think the bottom line is to move and stay active. Come up with a plan that will work for you where you are in life right now.
What are some ways you fit exercise into your day
without needing to go to the gym? 
P.S. If you are interested in trying my favorite products to help you reach your goals and boost your metabolism while you are working out, CLICK HERE to take our survey and learn how you can be our next product tester!
Latest posts by Angela Parker
(see all)