Some posts on this blog contain affiliate links. If you click them, I earn a small commission. It does not cost you anything extra, but this commission helps support the work of running this site. The views and opinions expressed on this blog are purely my own.
Today we're going to be talking about the exercise of rebounding some of the benefits of rebounding and how you can have a little fun, maybe while it is too cold to be outside this wintertime. Because while I want to feel good and look my best, I am NOT down with running outdoors when it's below freezing!
Listen to The Grassfed Mama Podcast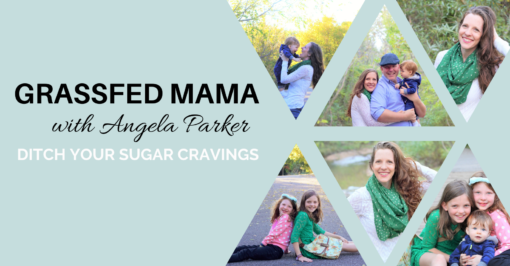 6 Benefits of Rebounding & Why It May Be Your New Favorite Workout

So if you've been listening to my previous podcast on this show you have heard that I am getting back in shape after having a baby.
And actually, part of it is due to weaning and kind of getting back into my pre pregnancy clothes you know it's kind of a little bit of motivation for me, because after I weaned, my son I kind of gained a little weight, and it's not bad, it's just like okay I want to get back on track and so I thought it'd be a great thing to bring y'all along for the ride and so we can do this together so if you're thinking the same thing.
Weight Loss Tips
Maybe it's five pounds, 10 pounds, 15 pounds, 20 pounds or whatever your goal is, I want to share some tips that are helping me get in my pre pregnancy jeans and just feel my best. You know I want to be a good mom I want to be a healthy happy mom. And so everything that I'm sharing is just my opinion what I'm doing, personally, but if I can help somebody else then, I want to do that!

So today, I want to talk about an exercise called rebounding! I remember whenever I first heard the word rebounding I was like, "Oh, the mini trampoline thing? Oh, okay…" So if you haven't heard that word, don't stress about it! It's just whenever you do exercises on a what is basically a mini trampoline that you've probably seen a gym or something like that. But what's interesting is this is really a fun and solid workout for your whole body!
Benefits of Rebounding
I'm going to go into the benefits of rebounding in just a second, but let me tell you a little backstory to rebounding for myself personally. So as I have shared previously on this podcast, a big part of my own health journey includes reading a book called The Maker's Diet and it was all about getting back to nature, getting back to the way our diet was intended to be through what God recommended. It really was a huge part of my own health transformation!

I this book, the author wrote about the benefits of rebounding as an exercise and how it's so good for clearing out your lymphatic system, which is kind of like the drainage system of your body. It's a way that your body can help detoxify and maintain your health state. It's an important part of weight loss because if you're not draining your lymphatic system correctly or efficiently then you're going to have trouble losing excess weight. So with all those benefits, I bought my own mini trampoline and I started doing some rebounding at home!
Home Workout for the Busy Mom
Well flash forward to now, I'm a busy mom of three! And so I am trying to get back in the habit of doing exercise every single day, and what I really like to do is like go on walks and ride my bike, especially because Northwest Arkansas is beautiful for so much of the year! But recently, my older kids are just not wanting to do that with me. So sometimes I'm just going to have to make things happen for myself.

And that's ok! But I'm trying to figure out some different things that I can do at home. And yes of course, there are some amazing home workouts available nowadays and I've been streaming a lot of them on Youtube. For example, I did a kettlebell workout on where I followed along and definitely felt the burn! As I've mentioned, I used to do body pump routinely and I followed along online for an old school body pump workout as well.

So a lot of times you can work out at home, and it's fun for your kids to see you exercise to even join in! One morning I was wanting to do something just a little fun and different and I remembered that I had my rebounder in the garage! The girls had been using it to play and what not and I did not do any rebounding while I was pregnant (for obvious reasons!) and I just hadn't gotten it back out since then.

So I brought it inside and one thing that's kind of fun about my house is my living room has a vaulted ceiling so there's a lot of head room in there. I remember when I used to rebound at my previous house I felt a little claustrophobic, or that I might accidently strike the ceiling during a jump! Generally, you don't jump super high as it's not like an outside trampoline where you're like doing flips and back spins. It's more like you're doing these simple movements on the trampoline, but it's really fun! I put on some fun music (or maybe even a podcast?) and jumped around to feel my muscles and the movement, such a great feeling! Put on whatever you want to listen to and just have fun on the trampoline, I felt like I was a kid again!
Fun Workouts at Home


I don't know about you guys, but I used to run I used to run long distance for exercise. I would run 10 miles and just keep going for what seemed like forever. But at some point, it wasn't fun anymore for me. It brought no joy to me. So while I do enjoy going on hikes and like that sort of thing, just going on a run in my neighborhood is not fun or that interesting anymore. Additionally, the impacts from running starting to bother me more and aches and pains I never dealt with in my twenties are a part of life in my thirties.
I think also that I feel kind of bored doing something repetitive completely by myself. I really enjoy going on long walks with my husband specifically because I love to just have that conversation and I love doing it with my family, but I don't like walking alone.
However, the rebounder is something that I like to do by myself so that's fine if I'm at home, and the kids are here and they don't want to work out with me, I can hop on my rebounder, put some music on, and I'm all set!

And as I said there are some really good benefits that I didn't really know much about, but might help you decide if this is something you want to try yourself.
Low Impact Workout


So number one is it is low impact so for me. As I said, I'm 35, so low impact is more important to me though whenever I was 20. And so that's really good if you do have knees and joints that hurt sometimes. I remember at one point I had really hurt my back. And so I was super limited on some workouts. If you're someone who is prone to having some aches and pains, you may want to try a rebounder! Just because you can do some movement without it being your running, you can run on the rebounder and it gives you a lot of the same benefits of running as far as calorie burn.

The second big advantage is that rebounding is a mid intensity exercise so it does help strengthen your your heart, as well as getting you breathing deeply and all the other benefits of of raising your heartbeat and having that it's good for your health. To raise your heartbeat and so that you're getting that circulation and everything so that's a really good benefit as well, so that you can do something that's a little bit more intense than just walking, as I mentioned earlier, it's good for cleaning out your lymphatic system also. I don't know how that compares to running or other exercises, but I know that specifically to rebounding what I've read is that it helps you even on a cellular basis I get helps every single cell in your body to detox.
Lymphatic System
A lot of people don't focus on detoxing naturally. And that's something that is tied to your lymphatic system that's like your natural process of getting rid of stuff that it doesn't need to be in your body and that's something that's important. So, rebounding is specifically something that helps detoxify and that you can do for as simple as 10 minutes a day, although if you want it for the workout benefits you probably want to do it more like 20 – 30 minutes. But that's something that you can get away from just for a few minutes a day, so it boosts your heart rate so that's also going to boost your metabolism because if you get your heart beating more you're gonna burn more calories than if we were just sitting on the couch, thinking about it also can help you lose weight.
It can boost your metabolism and it can help you burn more calories and so if you're trying to lose weight if you're trying to get into a fun activity that can be that really is this, this fun it's entertaining that mean that you may look forward to were like me then like I was going to go on I might be dreading it, turn on some fun music, just hop around for a little bit, and really get my heart rate up, and also boost your energy because I don't know about you guys.

So something that I really like about rebounder it helps me with my balance as well! Since I feel like I'm not coordinated at all, jumping on the rebounder can actually help you with coordination or balance. I can feel my core flex and the muscles in my legs reacting to the movement. I wanted that balance increase and moving around my center of gravity seems to be helping me improve my sense of balance as well.

After pregnancy, nursing, and now weaning… I'm ready to feel like "myself" again! So I'm starting my own weight loss challenge to help me drop the last few pounds of "baby weight" and also just feel my best again!
**************************************************************************
What I'm using:
Weight Loss Coffee:
Wild Cherry Superfood Vitamin Drink:
************************************************************************
Download my Keto Grocery List:
https://grassfedmama.lpages.co/keto-grocery
Keto Recipe E-Books
Top RecipesJust Desserts
Connect with us:
Instagram: https://www.instagram.com/GrassfedMama
Facebook: https://www.Facebook.com/GrassfedMama

Join my Free Facebook Community:
https://www.facebook.com/groups/GrassfedMama
Read the blog: https://www.grassfedmama.com
Shop My Favorite Healthy Products: https://gumroad.com/grassfedmama
Be My Product Tester: https://www.grassfedmama.com/product-tester
Work With Us: https://grassfedmama.lpages.co/work-quiz-two/
3 Simple Steps to Start a New Healthy Habit
I would love to help you reach your goals. Click here to get started.
Latest posts by Angela Parker
(see all)