Some posts on this blog contain affiliate links. If you click them, I earn a small commission. It does not cost you anything extra, but this commission helps support the work of running this site. The views and opinions expressed on this blog are purely my own.
I still can't believe it. We found out 3 days ago and I'm still pinching myself.
We are having a girl!!!
She looked so perfect on the ultrasound. We saw her little legs kicking, her heart pumping… it all made my heart melt.
This pregnancy has been much different for me emotionally than with Aidalyn. With Aidalyn, we were just so excited about adding this mystical thing called a baby into our lives. Neither of us really had much experience with babies. We didn't know what we were getting into, but we were thrilled!
We knew that PMD was a possibly and "tried" for a girl through supplements and timing of sex. I, at the time, did a lot less "research" in the idea of swaying and we just basically did what the first thing I found said to do. We obviously prayed and prayed and prayed for months (and years before hand!). To our surprise, we were blessed with Aidalyn – and what a blessing she has been to us!
I always wanted more than one child and absolutely LOVED pregnancy (albeit after about 17 weeks) and labor was amazing. I didn't want to miss out on the chance to try once more. We talked about just adopting and probably still will in a few years, but God really led us to try naturally.
Again, prayers and prayers led us on our journey. I dove back into the swaying sites and found some really interesting studies. The current world wide sex ratio at birth is 107 boys to 100 girls. The only time this ever shifts where more girls are conceived is in times of famine and "bad" times. Also, having lower sperm reaching the egg resulted in more girls being born. Our plan was to change my diet to lower my protein and fat basically to a "tough time" situation and to reduce the amount of sperm through various means. I was also having very irregular cycles and took Clomid one cycle (the month I got pregnant). Some believe that Clomid can change a woman's chemistry to be more likely to have a girl. I lost weight before we moved, but I don't really think I lost anything when we were in temporary housing in the 8 weeks or so before I got pregnant.
We started trying to get pregnant in May – so it took us from May until September. A lot of that time it took to get pregnant (I feel) was because we were trying to reduce sperm so much that it was just not going to happen and because my cycles were forever long!
But it finally happened!
We found out we were pregnant in October and then comes the wait… the longest wait ever it seems!
You know that God is going to be with you through whatever happens – boy or girl, healthy or not. The prayers and tears continued. Like I said, this pregnancy has been so much more emotional… for whatever reason. Stupid hormones!
Thursday, January 3rd finally came! I was so worried that the baby would have their legs crossed or that we wouldn't be able to get a good shot. All day I prayed and prayed that we would know – boy or girl – by the end of the day. As soon as the ultrasound was live, Adam and I could instantly tell it was a girl before the tech had to say anything. We were both silent, just staring… We were feeling relieved and excited, but we were eerily calm.
As soon as we walked outside of the doctor's office, Adam yelled "It's a girl!!!!!"
God hears our prayers!
I feel like God has answered all our prayers, and has given us such a special gift. We have truly won the lottery!
I'm pleased to say that Annaleigh Parker is on her way!
She is measuring a week ahead, so it looks like I have another big baby on the way (Aidalyn was 9 lbs at birth). Time to get in shape to be able to push this baby out!
Thank you all for your prayers and support! We are so humbled by God's love he has shown to us. Annaleigh's name means favored grace and that is exactly what I feel has been given to us.
Update: I have now had Two Successful Sways for Girls.
Here is my E-Book How to Sway for a Girl $5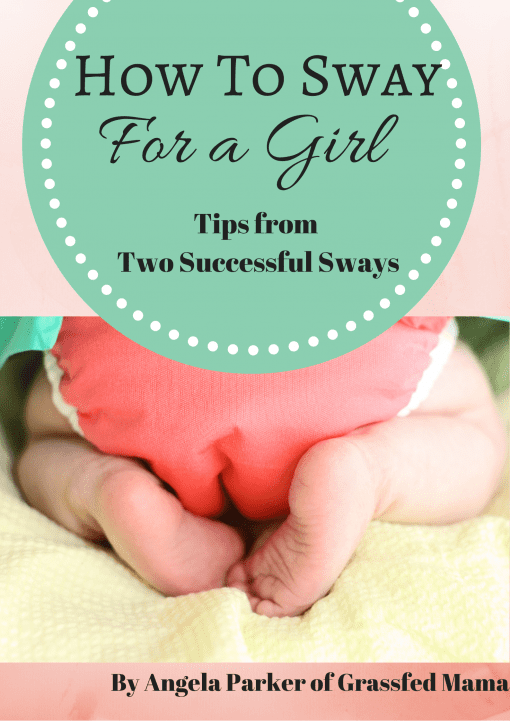 Latest posts by Angela Parker
(see all)