Some posts on this blog contain affiliate links. If you click them, I earn a small commission. It does not cost you anything extra, but this commission helps support the work of running this site. The views and opinions expressed on this blog are purely my own.
 King Cake in a Mug with Cream Cheese Topping
I may live in Richmond, Va now, but I am born and raised a Louisiana girl. On top of being raised in Louisiana, I have a birthday that falls during Mardi Gras. It became a tradition for me to have a King Cake for my birthday cake for several years until I moved last year. Then my mom, hearing my laments of not being able to get a King Cake in Richmond, mailed me a King Cake from Louisiana… Let's just say I shared… but I didn't.  
This year… I am so happy to be able to enjoy my King Cake in a Mug every day of Mardi Gras if I want with NO guilt! This is a grain free, sugar free treat that you can enjoy with a cup of rich Community Coffee.  
One thing I like about this King Cake in a Mug, is that it is really light and fluffy. I also love the cinnamon and nutmeg that go hand and hand for the perfect combination to the cream cheese topping. The added lemon flavor enhances the cream cheese "icing." Obviously we are leaving off the sugar crystals… but you can close your eyes and imagine some purple, gold, and green all over your delicious, guilt free King Cake in a Mug.
One tip to make your King Cake in a Mug is to top it with just a little xylitol. This will act like your sugar crystals and take you back to Louisiana. I also used turmeric to color the top of my cake in a mug. 
I hope you enjoy this little Louisiana gem as much as I do!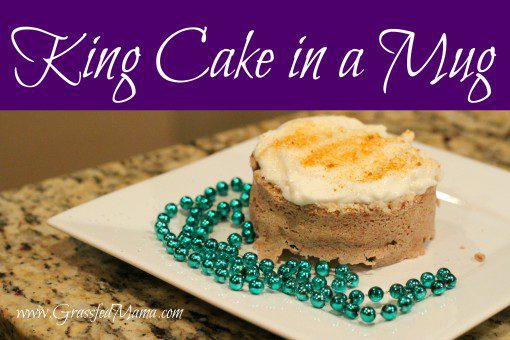 King Cake in a Mug
A nod to the flavors of a Louisiana King Cake this King Cake in a mug boast flavors of cinnamon and cream cheese.
Angela Parker:
Angela Parker
Ingredients
2 Tbls of Coconut Flour
1 tsp of cinnamon
pinch of salt
dash of nutmeg
1 tsp of baking powder
1 egg
2 Tbls of almond milk (or just a little more if your coconut flour soaks up too much)
5 shakes of nunaturals stevia extract (or your stevia to taste)
1 tsp of vanilla
Icing:
¼ cup of Greek yogurt
1-2 tablespoons of cream cheese
pinch of salt
¼ tsp of lemon juice (or you could use lemon extract)
3-5 shakes of nunaturals stevia or your stevia to taste.
(Optional xylitol on top for sugar crystal substitute)
(Optional: Turmeric for color)
Instructions
Mix the cake ingredients together well, adding baking powder in last.
Microwave for 1½ - 2 minutes (I like mine at 1½ minutes). Be sure not to over cook, then it will be dry.
During that time, mix your "icing" together. Stirring all the ingredients well.
Serve with cream cheese yogurt over cake.
Enjoy!
 Linked Up at Nomday-Monday's 
Latest posts by Angela Parker
(see all)