Some posts on this blog contain affiliate links. If you click them, I earn a small commission. It does not cost you anything extra, but this commission helps support the work of running this site. The views and opinions expressed on this blog are purely my own.

Lemon Coconut Cheesecake Bars
No Bake, Sugar Free, Grain Free, Gluten Free
We love cheesecake at the Parker house. My favorite place to celebrate is The Cheesecake Factory. Since going, grain free, sugar free, and lower carb… that is a dangerous place to go with all the sugar filled temptations.
This no bake cheesecake recipe filled a need for my love of cheesecake while staying in my diet and keeping me healthy.
Plus, it is easy to make too! 
I'm a mom of two little girls. I want to cook healthy and more importantly EAT healthy… So I love no fuss, easy to throw together recipes that I can feel good about feeding my family.
We eat sugar free, because excessive sugar is not healthy. Here are my tips for ways to cut the sugar in your diet.
My husband loves the 4 layer delight bars that are popular with the layers: crust, cream cheese layer, pudding and whipped cream topping. These sugar free cheesecake bars also remind me of the flavors of the lemon delight bars. You could add a layer of whipped cream to the top if you would like.
I love that this recipe is sugar free, grain free and gluten free. 
I used stevia to sweeten my cheesecake bars. You could sub honey if you don't need to stay sugar free.
For the crust, I used a combination of pecans and almond flour. My pecans actually came from a tree in my grandmother's yard in Louisiana. Each year, she give all her kids and grandkids bags of pecans from the year. I love it!
After pressing the pecan and almond crust into the pan, I carefully spread the cheesecake layer on top.
To top off my cheesecake, I choose unsweetened shredded coconut. For extra color, I sprinkled just a little turmeric on top. It doesn't change the flavor at all, but adds some nice color.
Turmeric is a natural detox spice.  I like to add it so my foods to help my liver stay clean naturally.
After assembling the lemon coconut cheesecake bars, I placed in my fridge for 1 hour to set. You could place in the freezer if you need it to firm up more quickly.
Using the edges of the parchment paper, I lifted the bars out of my pan. I carefully cut away the excess paper. Then, I transferred to my serving dish for a prettier presentation.
Yum! I love the taste of lemon. It is so refreshing and pairs nicely with the cream cheese.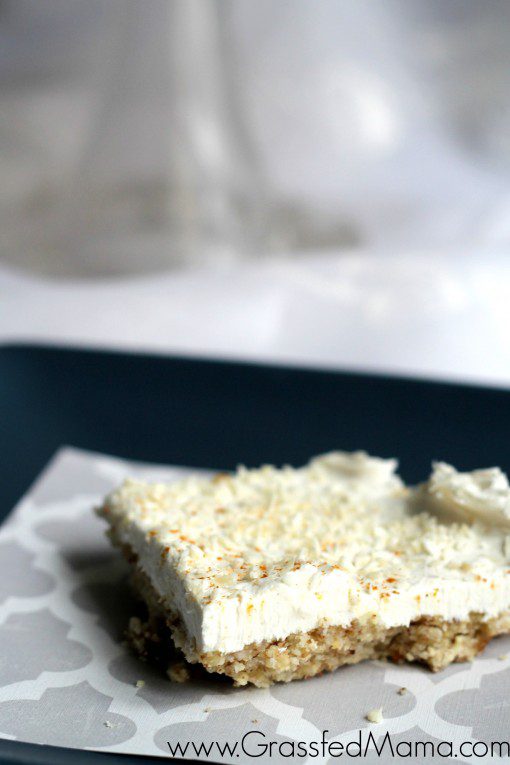 Lemon Coconut Cheesecake Bars Sugar Free, Grain Free
This recipe is easy being no bake. Just use your food processor to make the layers.
Angela Parker:
Angela Parker
Ingredients
Crust:
1 cup of pecans
1 cup of almond flour
1 tsp of vanilla
¼ tsp of stevia extract powder
¼ tsp of salt
4 tablespoons of coconut oil
cheesecake layer:
2 blocks of cream cheese (16 oz total), softened
⅓ tsp of stevia extract powder
½ tsp of salt
2 tsp of lemon extract
½ tsp of almond extract
½ cup of coconut oil
topping: ½ cup of unsweetened shredded coconut
¼ tsp of turmeric (optional)
Instructions
Process the first 6 ingredients in food processor (pecans through 4 tablespoons of coconut oil). Pulsing the ingredients to combine.
Next line your 8x8 pan with parchment paper. This will help you remove the bars and cut easier into nice little squares.
Press your crust ingredients into your pan (You can use another layer of parchment paper on top to help keep layer smooth and less messy)
Next add the cheesecake ingredients to empty food processor: cream cheese, stevia, salt, lemon extract, almond extract, & coconut oil.
Process to combine (you could also use mixer)
Spread cheesecake layer carefully over your crust.
Top with unsweetened shredded coconut and turmeric (optional for color)
Place in refrigerator to harden for 1 hour.
Click here for my favorite sweetener blend!
What is your favorite cheesecake flavor?
This post is linked up to Allergy Free Wednesdays and Wake Up Wednesdays and Healing with Food Fridays and Nomday Monday
Latest posts by Angela Parker
(see all)