Easy Homemade Bird Feeder
Making bird feeders is a great winter activity for your kids. It is win-win for everyone. Your kids get to have fun making a craft, and the birds get to have some food when the pickin's are thin in the wintertime. This is an easy homemade bird feeder to make with toddlers and preschoolers using only two items.
This activity was first shown to us when we visited our local Botanical Gardens for their light display around Christmas. They made ornaments to hang on a tree in their children's garden using pipe cleaners and Cheerios. Aidalyn loved making the homemade bird feeder so much, I knew we would need to make them for our house.
All you need is two supplies:
Pipe Cleaners
Cheerios
Directions:
Start by tying off one end of your pipe cleaner by wrapping it through a Cheerio.
Then continue stringing the rest of the Cheerios on your pipe cleaner.
Find a tree to hang your bird feeder on and wait for birds to come and nibble.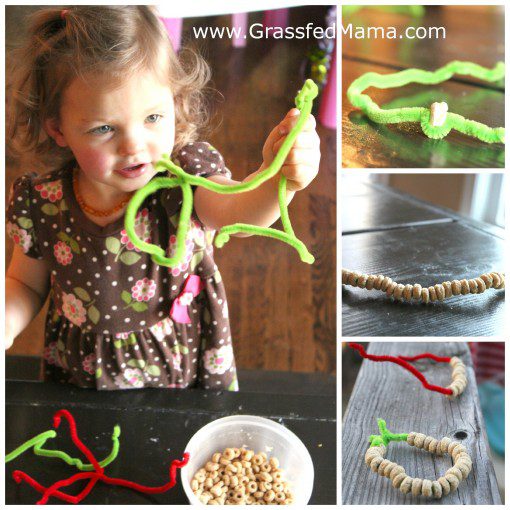 What are your favorite pipe cleaner crafts?

My name is Angela. I have been married for 14 years and have two little girls (with another little on the way!) I'm a speech therapist by trade but started my own business from home 4 years ago. I am passionate about healing through nutrition, natural medicines, cooking with whole foods, and natural parenting. I strive to honor God with everything I do.
Latest posts by Angela Parker (see all)