Some posts on this blog contain affiliate links. If you click them, I earn a small commission. It does not cost you anything extra, but this commission helps support the work of running this site. The views and opinions expressed on this blog are purely my own.
The best thing about fall is the holiday scents… what am I saying? The best thing about fall is EVERYTHING!!
But mama can't be simmering a pot of apple cider on the stove every day, amiright?
and I don't love burning candles… fires and kids sort of make me visualize this happening in my house:
Plus, you really don't know what you are breathing in when you burn a conventional candle. Most are filled with artificial scents – and I'm just not sure I want to be breathing that in all day.
So, this is a really fun and memory filled DIY idea to keep your favorite holiday scents in your home without worrying about chemicals or anything else scary, lol.
DIY Holiday Scented Pinecones
1 – First, go on a nature hunt with your kids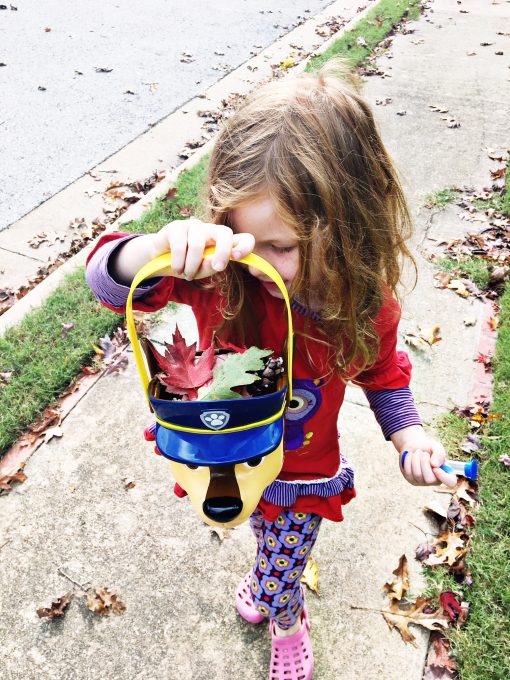 We brought our Halloween buckets along for extra gathering fun! What you want to look for is any pinecones you can find… They can be small, large, closed or open.
Of course, we collected some really fun colored leaves too (and I may get another activity out of those later.)
2 – Bake Pinecones
Bake your pinecones in the oven heated to 200 degrees. This will help any closed pinecones open further and prep them for the essential oils.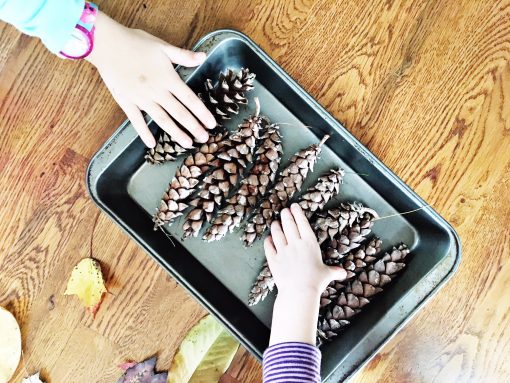 3 – Prepare Essential Oil Solution
When you use and store essential oils, you should always use glass. You can buy glass bottles or you may can find an empty glass bottle you can re-purpose! (We used an old olive oil glass bottle and just cleaned it well and found a spray top that fit it)
Ingredients:
8 oz of Distilled Water
30 Drops of Immune Booster Oil Blend
1 Glass Spray Bottle
8-10 Pinecones
Glass Bowl
Directions:
Combine all ingredients in spray bottle, shake to mix.
Place pinecones in glass bowl and spray solution over pinecones to soak.
Cover and let sit for 24 hours.
Display pinecones in house to naturally scent the air!
I hope you have fun making this holiday craft with your whole family! I know one of the most important part of the holidays is making memories – so why not make something you all can enjoy!

P.S. If you want to learn more ways you can use Defend Essential Oil Blend to stay strong through the holidays, Check out this post with more great tips.
Latest posts by Angela Parker
(see all)