Some posts on this blog contain affiliate links. If you click them, I earn a small commission. It does not cost you anything extra, but this commission helps support the work of running this site. The views and opinions expressed on this blog are purely my own.
My girls (especially my oldest) LOVE science and experimenting at home. My mom gave us a book full of science experiments to do together this year and it is one of their favorite things.
Whether you homeschool or not, This saline solution slime is perfect for kids as a science and sensory play activity.
I get stressed out easily when my kids are making a mess in my kitchen (which happens often, haha!) But this is pretty contained in one big bowl (and as you can see, you can bring the fun outside too).
TIP: After you mix in everything, Use your hands to really kneed it to make it come together well.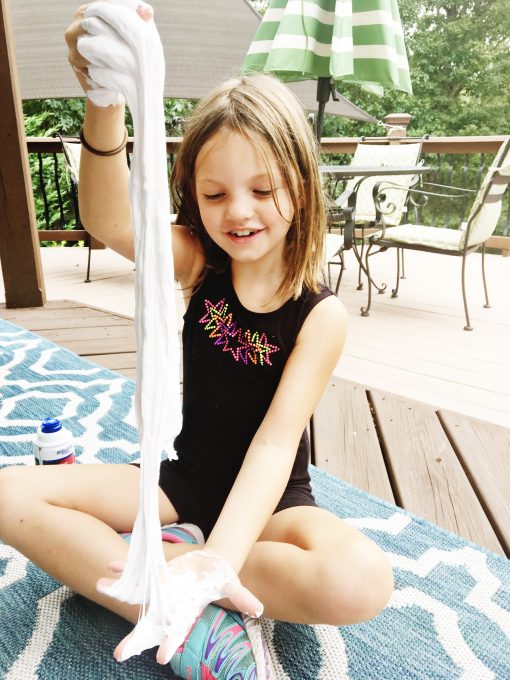 One thing that can be frustrating with at home experiments is the ingredients – Right? The recipe may call for some weird thing that you have to special order or something. No need for that! It is easy to make this slime with common ingredients like glue, shaving cream, and saline solution.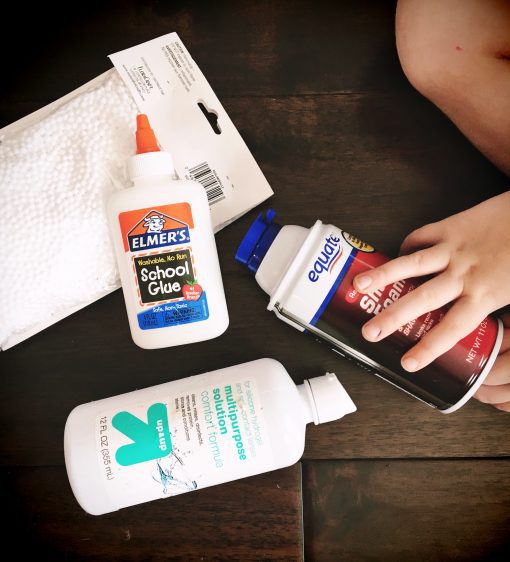 DIY Shaving Cream Slime
Ingredients
4 oz of Elmer's Glue
1 cup of Regular Shaving Cream
1/2 tsp of Baking Soda is optional
Directions
STEP 1: Add one bottle of Elmer's Glue to a large bowl. (Optional to mix in a few drops of food coloring)
STEP 2: Next, add a 1/2 cup of Shaving Cream to the bowl and mix thoroughly. Add 1/2 tsp of baking soda.
STEP 3: Add in another 1/2 cup of shaving cream and mix in well.
STEP 4: Slowly Add 1 tablespoon of the saline solution to the mixture and start whipping!
STEP 5: Once you get the mixture thoroughly whipped and incorporated, you can pull it out with your hands!
STEP 6: Spend a few minutes kneading the slime and add more saline solution if it is too sticky.
Then enjoy! My girls had so much fun with this!
?? SLIME SAFETY NOTES ??
Learning how to make homemade slime is totally worth it and your kids will love it! Let's remember that slime is still a science experiment and every science experiment should be adult supervised.
If you kids are young, be in charge of the ingredients and do the mixing. DO NOT substitute ingredients (so you don't get an unexpected reaction!) Wash hands thoroughly.
Latest posts by Angela Parker
(see all)