Some posts on this blog contain affiliate links. If you click them, I earn a small commission. It does not cost you anything extra, but this commission helps support the work of running this site. The views and opinions expressed on this blog are purely my own.
Dangers of Birth Control Pills
About 2 years after Adam and I were married and after starting this health discovery process, I started doing some research on birth control pills. I was taking a pill every day to prevent pregnancy… and I just kept reading that this was not healthy for me or my hormones.
So I started doing some research. I found that there are TONS of diseases linked to birth control pills – breast and cervical cancer being one of them! You can check more out more dangers of birthcontrol here from Dr.Mercola
Birth control pills are a very high dose of estrogen that work by tricking your body into thinking you are pregnant so it doesn't need to ovulate.
Medicinenet.com lists the most common side effects as " nausea, headache, breast tenderness, weight gain, irregular bleeding, and mood changes." Migraines, increased blood pressure, blood clots, heart attack, and stroke are also side effects of birth control pills. I had several friends who felt horrible on birth control pills and were experiencing the effect of the synthetic hormones.
Birth control pills also destroy the good bacteria in your digestive system leaving you susceptible to yeast infections and other illness. Your bacteria in your gut is really vital to your immune system and health in general.
Besides just a health topic, birth control is even a biblical topic too. For more about a biblical stance on birth control you can check this out from Mark Driscoll.
But I don't want to get Pregnant!
With birth control pills being so common, the alternative options are hardly taught anymore.
I looked into several different options, but chose to go with Lady Comp and then later upgraded to Babycomp. It is a little computer with a basal temperature thermometer attached to it. Every morning you take your temperature and enter a few buttons – that's it!
It uses a 3 color code (red, yellow, green) to tell you when you are fertile or not. If you are fertile and you choose to have sex, you need to use a non-pharmaceutical barrier method – like a condom or something you are comfortable with using.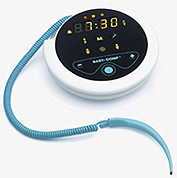 Lady comp is obviously costly, but I quickly have made back my initial investment – I was spending anywhere from $15-$30 a month on birth control pills.
I also use fertility friend to chart my cycle. This is a free site and they even have a mobile app.
Taking Charge of Your Fertility is a great book with information on how to avoid pregnancy and also help when you are ready to get pregnant.
There are tons of other sites on techniques of testing yourself to see when you are fertile. I think it is good to be aware of your body and your cycle. The neat thing about using Lady comp – or it's big brother, Baby comp – is that it can help you get pregnant when you decide it is time. We were able to get pregnant the first month of trying because I knew my cycle so well.
Think about your health and what matters to you – I would rather take my temperature every day than have any one of those diseases mentioned, and that is why I chose something different.
What do you guys think about birth control? Leave me a comment, I'd love to hear what you think!
Latest posts by Angela Parker
(see all)