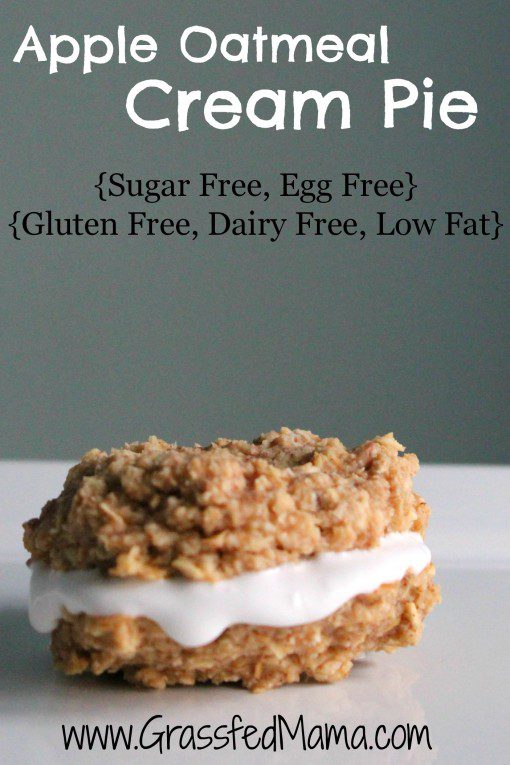 Apple Oatmeal Cream Pies
{Sugar Free, Gluten Free, Egg Free, Dairy Free, Low Fat}
Oatmeal Cookies are a childhood favorite of mine. I love oatmeal cookies and cream together. These Apple Oatmeal Cream Pies are the prefect combination of both flavor and health benefits.
Apples are full of vitamins and minerals. They add a natural sweetness to the cookie as well. Oatmeal is a great food for fiber as well as for your heart. Oats are also good for stabilizing blood sugar because of its magnesium content.
Coconut milk is used for the cream to keep this dairy free. To create the full body of whipped cream, glucomanan is used to stiffen and keep the cream at a semi-solid. I love glucomannan and use it all the time. It is full of fiber and has been used for centuries in Japan. It can help fill you up, so you aren't tempted to overeat. I buy mine glucomannan on Amazon. I love it as a thickener because, you can use it with cold foods. It doesn't need to be heated to activate the absorbing properties.
Apple Oatmeal Coconut Cream Pies
A fun treat to enjoy that is sugar free, dairy free, and lower in fat.
Angela Parker:
Angela Parker
Ingredients
For the apple oatmeal cookies:
3-4 apples cored
1 cup of cooked Navy or Great Northern beans
1 cup of water
1 teaspoon of apple cider vinegar
4 Tablespoons of xylitol
¼ teaspoon of nunaturals stevia extract (or if another stevia extract powder, you can taste test)
1 teaspoon of pumpkin pie spice
2 Tablespoon of psyllium husks
2 cup of old fashioned oats, raw (use gluten free oats)
1 teaspoon of baking powder
For the Coconut Cream:
1 can of coconut milk chilled overnight in fridge
1 tsp of lemon extract
⅛ teaspoon of nunaturals stevia extract or you can taste test with xylitol.
Pinch of salt
1¼ tsp of glucomannan
Instructions
For the Cookies:
Preheat oven to 375 degrees.
Process everything in your food processor, until you have a coarse batter.
You can process apples, water, and beans first.
Then add the rest of the ingredients and process again.
Using a spoon, place cookies on parchment paper on baking sheet.
Make cookies about 2 tablespoons each.
Bake for 15-20 minutes.
For the Coconut Cream:
Put whisk and mixing bowl in the fridge for a few minutes to cool them as well.
Pour cooled can of coconut milk in mixer and mix for 3-5 minutes.
Add the lemon extract, stevia and glucomannan and continue whisking for 3 more minutes.
Pour into bowl to store in fridge until ready to assemble into oatmeal cream pies. Mixture will continue to thicken in fridge.
To assemble:
Take one apple oatmeal cookie and place upside down on plate. Spoon 1 teaspoon of coconut cream on the cookie and top with another cookie.
Eat and enjoy!
For Trim Healthy Mamas, this would be an E dessert. Use Low fat coconut milk.
This recipe had been linked up to Gwen's Nest for Trim Healthy Tuesdays.  and Wellness Weekend and Gluten Free Fridays and Whole Food Fridays and Adventures in Mindful Living and Nomday Monday and Motivational Mondays and MaMade Blog Hop and Thrifty Thursdays and Foodie Fridays  and In and Out of the Kitchen and Meal Plan Monday and Weekend Wellness

My name is Angela. I have been married for 14 years and have two little girls (with another little on the way!) I'm a speech therapist by trade but started my own business from home 4 years ago. I am passionate about healing through nutrition, natural medicines, cooking with whole foods, and natural parenting. I strive to honor God with everything I do.
Latest posts by Angela Parker (see all)