Some posts on this blog contain affiliate links. If you click them, I earn a small commission. It does not cost you anything extra, but this commission helps support the work of running this site. The views and opinions expressed on this blog are purely my own.
Chocolate Chip Cookie Lovers Unite!
You know when you were growing up and the BEST part of making cookies with your mom was when she let you lick the bowl? Come on… I know I wasn't the only one!
Well, then you grew up… and people started talking about raw eggs and cookie dough and blah, blah, blah.
Not to mention all the calories and sugar in regular cookie dough…
What is a cookie dough lover supposed to do??? 
There HAS to be a better way!!!
No worries, friend! I got you boo… This is a healthy, protein packed, lower sugar recipe to help you relive your childhood without any guilt necessary ; )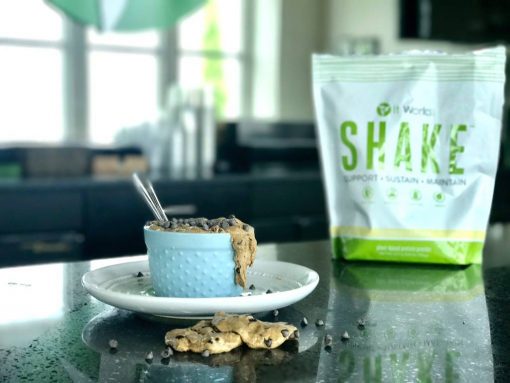 Recipe and directions:
1 cup almond butter

2 scoops of It Works! Vanilla Shake

1 Tsp of Stevia (to taste!)

1/3 cup mini chocolate chips (optional), plus more for garnish

Salt to taste! (your preference)
Directions:
1. In a large microwave-safe mixing bowl, heat your almond butter for 30-60 seconds until softened and easier to stir. If you really want an arm workout, you can skip this step
.
2. Stir in the protein powder (and, if using, salt and/or sweetener) until combined. The dough should be soft and pliable, but hold its shape when you squeeze it together. If it is too soft, stir in another 1-2 Tablespoons protein powder until it resembles hearty (not soft or oily) cookie dough.
3. Fold in the chocolate chips.
4. Scoop 1 Tablespoon portions and roll into balls. Press a few more chocolate chips into the top of each ball for garnish, if desired.
Enjoy!!

Latest posts by Angela Parker
(see all)