Some posts on this blog contain affiliate links. If you click them, I earn a small commission. It does not cost you anything extra, but this commission helps support the work of running this site. The views and opinions expressed on this blog are purely my own.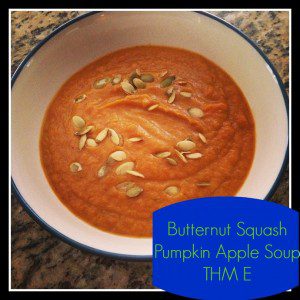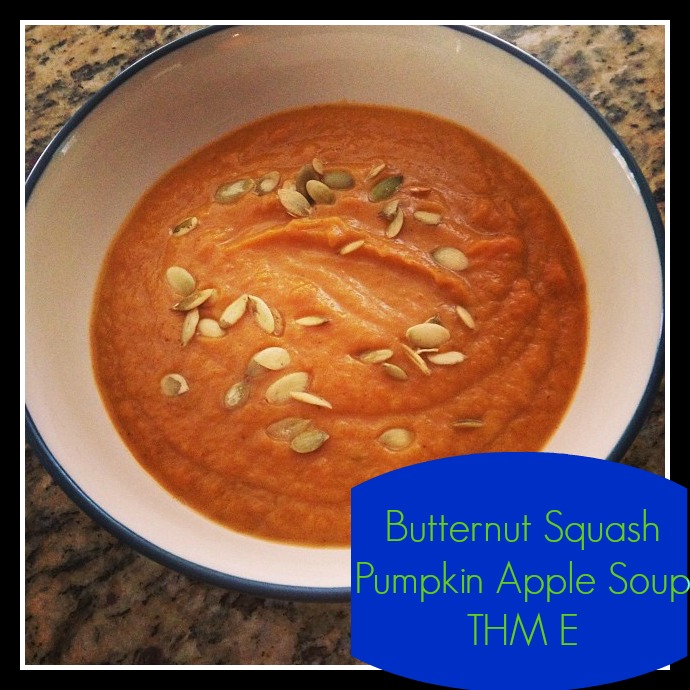 This was the first year I finally fell in love with Butternut Squash. What took me so long!?!
Here is the perfect soup for those colder nights this season. Butternut Pumpkin Apple Soup.
I have made this two different methods: in the slow cooker and on the stove. Both turned out great, so I'll share both ways to make it. 
Butternut squash has been on sale at my Krogers for the past few weeks for 99 cents a pound! Which is such a deal. It won't last long, so make this soup when you get the chance.
This recipe is linked up to Gwen's Trim  Healthy Tuesdays! Go check out her newest recipe: THM Peppermint Chocolate Chip Milkshake Recipe
Butternut Squash Pumpkin Apple Soup
A delicious soup to enjoy all through the Fall and Winter.
Angela Parker:
Angela Parker
Ingredients
One butternut squash - halved and seeded
One Onion cut in half and outer layer peeled
1 32 oz carton of chicken broth
1 16 oz can of pumpkin puree
2 apples (any variety will work) cored and sliced
2 tsp of each: curry powder, salt, cinnamon
1 tsp of red pepper flakes (more if you like it spicier)
¼ tsp of black pepper
½ tsp of nutmeg
Stevia to taste (I used two packets of truvia)
½ cup of nonfat Greek yogurt
Instructions
Preheat oven to 400 degrees and roast butternut squash cut side down and onion for 45 minutes. During this time you can heat on stove (or in crockpot on high) your broth, pumpkin, apples, spices and seasonings.
Once your butternut squash and onion are roasted, scoop out the flesh of the squash and add that to pot and add onion halves at this time too.
Blend ingredients together. The first time I used my food processor and added batches of the soup to the appliance to blend. Then I purchased an immersion blender, because I knew I would be making this soup a lot (and I have!). Immersion blenders make this soup so much easier.
Add your yogurt at this time. You can add more broth (or apple juice) to reach the desired soup consistency. Every squash is a different size, so sometimes you need more broth than other times.
Let cook for another 30 minutes on the stove. In the crock pot you would cover and lower temp to low if you were going to eat it much later in the day, or leave it on high for another 2 hours.
I served with a tsp of pumpkin seeds on top. It was so perfect. Just like Fall in a bowl!
Nutrition Information
Calories:
611
Fat:
4g
Saturated fat:
1g
Unsaturated fat:
2g
Trans fat:
0g
Carbohydrates:
133g
Sugar:
84g
Sodium:
6916mg
Fiber:
29g
Protein:
26g
Cholesterol:
2mg
If you are a Trim Healthy Mama, this is an E meal! This is also linked up to Trim Healthy Tuesdays! and Make Your own Mondays at Nourishing Treasures!


Latest posts by Angela Parker
(see all)