Some posts on this blog contain affiliate links. If you click them, I earn a small commission. It does not cost you anything extra, but this commission helps support the work of running this site. The views and opinions expressed on this blog are purely my own.
Pumpkin Applesauce Muffins
This was my week to bring snacks for my women's small group. I wanted to find something that was easy to eat without utensils and also had a yummy fall taste.
I decided to try my hand at a low fat, low sugar pumpkin applesauce muffins.
For Trim Healthy Mamas – this will be an E or energizing snack. It is E because it is low fat but has carbs for energy or fuel.
These Pumpkin applesauce muffins were a hit! There were none left to bring home after small group. These may just be the perfect muffin for your next breakfast or coffee break!

Pumpkin Applesauce (THM E) Muffins
A perfect muffin for an energizing breakfast or snack
Angela Parker:
Angela Parker
Ingredients
1.25 cups of flour (I used my gluten free flour that is made up of mostly bean flours, you could use whatever E flour you want like Oat flour)
1 scoop of protein powder
½ teaspoon of baking powder
½ teaspoon of baking soda
1 teaspoon of cinnamon
¼ teaspoon of salt
½ teaspoon of pumpkin pie spice
½ cup of egg whites
1 cup of pumpkin canned or fresh (I used canned)
1 cup of applesauce, unsweetened
½ cup of xylitol (or your preferred sweetener)
2 teaspoons of vanilla
Instructions
Preheat oven to 350 degrees.
In a bowl, combine wet ingredients until all mixed.
Add flours, baking powders, spices and sweeteners. I used my immersion blender to whisk everything together, you could also use a mixer or hand whisk.
After everything is combined, pour into greased muffin cups.
Bake for about 15-20 minutes or until toothpick inserted into muffin comes out clean.
Notes
My recipe made 15 medium sized muffins.
Nutrition Information
Calories:
1260
Fat:
6g
Saturated fat:
1g
Unsaturated fat:
3g
Trans fat:
0g
Carbohydrates:
253g
Sugar:
102g
Sodium:
1507mg
Fiber:
16g
Protein:
47g
Cholesterol:
3mg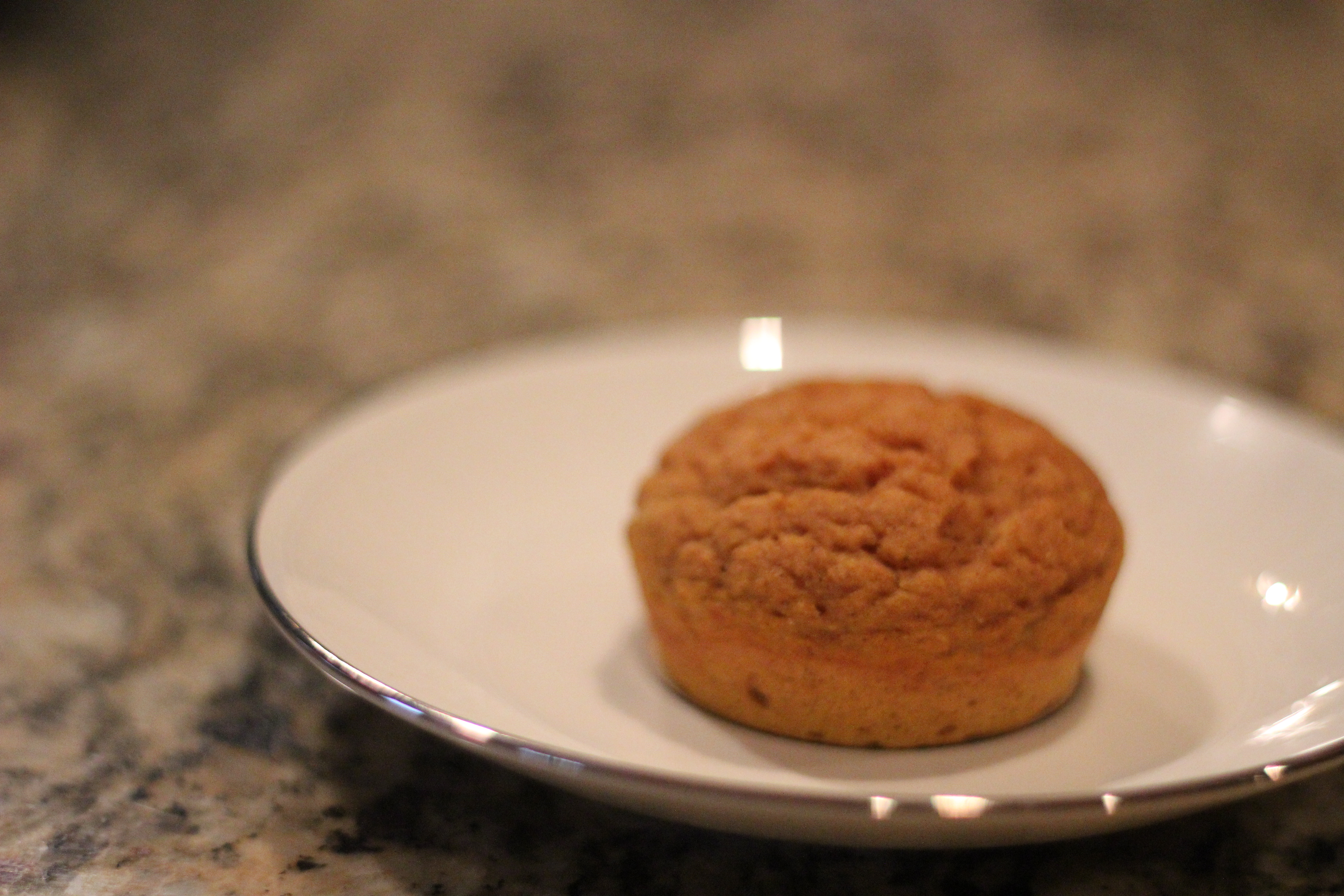 In a 12 muffin recipe, totals come up to per muffin:
67 calories, 3.6 grams of protein, 11.4 grams of carbs, .6 grams of fat, and 2.4 grams of sugar. So making into 15 muffins, the numbers are even lower.
Way to go Trim Healthy Mamas out there!!!! Remember this is an E snack or part of an E meal. You can add some greek nonfat yogurt to it to make it a great breakfast or smear some low fat cream cheese on top – yummy!
P.S. If you are looking for a high quality Protein Powder with almost no Sugar, Here's the one I suggest!
This recipe has been added to the Trim Healthy Tuesday link up at Gwen's nest. Go check out Gwen's new Sugar Free Frozen Egg Nog Recipe! Also linked up at Make your own Monday's at Nourishing Treasures.  and Adventures in Mindful Living
This recipe can be found at:
Latest posts by Angela Parker
(see all)