Some posts on this blog contain affiliate links. If you click them, I earn a small commission. It does not cost you anything extra, but this commission helps support the work of running this site. The views and opinions expressed on this blog are purely my own.

 Easy Baked Chicken Fajita Salad
It is no stretch of the imagination to say that we LOVE Mexican food. I could eat it every week and it would not get old. I craved so much Mexican food while I was pregnant with both of my girls. When I was dealing with Gestational Diabetes, I had to be very careful of not indulging in the rice, beans, and tortillas. These Easy Baked Chicken Fajita Salads became a staple meal for us.
I saw several recipes floating around Pinterest before I decided to make it myself and tweak it into my own recipe. These are quite healthy too. Garlic and Cayenne are wonderful spices for your health and help you detox.
Easy Baked Chicken Fajitas are the perfect meal for throwing in the pan and it being no fuss. I am all about easy and simple recipes that are easy clean up as well. You can have dinner ready in 30 minutes. What more could you want?
You also get a good helping of fresh, tasty vegetables that are full of flavor and vitamins for your family. 
Easy Baked Chicken Fajita Salad
Here is an easy Baked Chicken Fajita Salad to satisfy you for a healthy dinner that is low carb.
Angela Parker:
Angela Parker
Ingredients
1 lb of chicken, cut into slices
1-2 onions sliced
2-3 bell peppers, sliced
1 cup of salsa
2 tsps of cumin
½ tsp of cayenne powder
2 tsp of garlic powder
2 tablespoons of chili powder
2 tsp of salt
handful of cherry tomatoes
Optional - Lemon juice right before serving
Salad
Mixed salad greens
Shredded cheese
Avocado
sour cream
salsa
cherry tomatoes
Instructions
Preheat oven to 400 degrees.
Mix all the ingredients together for the chicken and place in 9x13 inch pan.
Bake for 30 minutes (or until chicken is cooked and onions are translucent). Stirring 2x during cooking.
Build your salad with greens, cheese, extra toppings of your choice.
Add about a tablespoon of lemon juice to the chicken fajitas when they come out of the oven.
Place cooked baked chicken fajita mixture on top of salad.
Enjoy your easy Chicken Fajita Taco Salad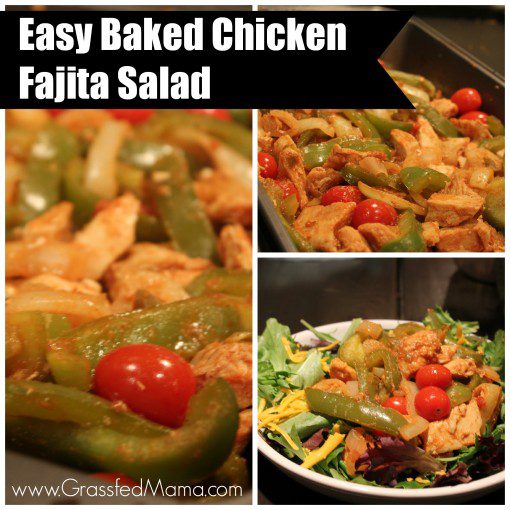 Latest posts by Angela Parker
(see all)