Using Pipettes for Play
I'm always trying to find new ways of letting Aidalyn learn and discover through play. I saw these pipettes at my naturopaths office and thought that they would be so much fun to play with at home. I ordered a huge pack from Amazon and have been having fun learning all the fun ways you can use pipettes for play.
They are a pretty cheap art supply to keep around for when you want to pull out a fun afternoon activity. Today, we gathered some snow and had fun melting it using our pipettes filled with water. You can add food coloring or a little water based paint into the water to make fun colors in the snow too. It was such a simple activity and Aidalyn played with it for forever without getting bored.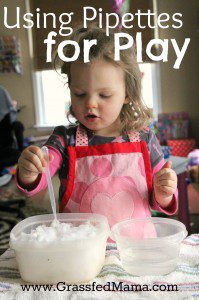 These are great for fine motor skills. I gave Aidalyn a mini muffin pan for her to fill up each muffin cup with water using her pipette. She loves play activities using water too. What could be more fun than playing with snow? I enjoyed bringing the snow inside for play, because it is very cold outside. This was a great activity for using her fine motor skills while having fun. 
Here are more ideas with using pipettes for play: 
Pipettes for making Art from Play Based Learning
More Water Play Activity from Learn with Play at Home
Erupting Candy Cane Play from Growing a Jeweled Rose
Rainbow Snow Art from Too-daloo
Fizzing Play with Shimmery Shamrocks from Momma's Fun World
Ice Art from Learn Play Imagine
Color Mixing from Simply Mommie
Drip Painting from Teaching two and three year olds
More color Mixing from Two Little Seeds
Here is a way to make homemade food coloring using foods. 
Have you used pipettes before with your kids? What are your favorite indoor play activities?
This has been linked up to Good Tip Tuesdays 

My name is Angela. I have been married for 14 years and have two little girls (with another little on the way!) I'm a speech therapist by trade but started my own business from home 4 years ago. I am passionate about healing through nutrition, natural medicines, cooking with whole foods, and natural parenting. I strive to honor God with everything I do.
Latest posts by Angela Parker (see all)